Benoit Lemaignan, CEO of Verkor, explains their approach in making Europe a key player in batteries, including the Verkor Innovation Centre and the construction of their first gigafactory.
Founded in July 2020, Verkor is a French industrial company based in Grenoble which, faced with the rise in climate issues related to the mobility industry, is determined to make Europe a key player in the battery sector. Verkor is carrying out a large-scale industrialisation project for lithium-ion batteries. The first phase is the creation of the Verkor Innovation Centre (VIC), an R&D centre to optimise manufacturing processes. The second phase is the construction of the first Verkor gigafactory.
Verkor is backed by prominent shareholders; EIT InnoEnergy, Groupe IDEC, Schneider Electric, and Capgemini joined the adventure in the early days and today constitute the historic partners. Renault Group, EQT Ventures, Arkema, Tokai COBEX, and DEMETER came on board in July 2021. Together they bring us a set of skills and expertise across the value chain, allowing us to pursue our roadmap. With our partners, Verkor now has expertise across the whole battery value chain.
Verkor's expertise and the current landscape for battery manufacture
Our talented team and strong partners are carrying out a structuring project to consolidate the value chain. Today, our team comprises some 40 experts, from 14 different countries, and with diverse experiences in large industry groups, particularly in the battery and automotive industry. Our team has the skills to achieve our goals.
Out of the 16 GWh of our first gigafactory, we will be supplying 10 GWh to Renault Group, a company who has also taken a +20% share of Verkor. To accompany growth, we also rely on the strong experience of EQT Ventures, a fund that seeks to create European champions with strong ambitions.
We also benefit from the expertise of our strategic and technological partners, in particular, the solid European ecosystem of EIT InnoEnergy, the real estate development know-how of Groupe IDEC, the industrial production expertise of Schneider Electric, and the expertise of Capgemini in excellence manufacturing. Since July 2021, Verkor will also benefit from the industrial expertise of new shareholders Arkema, leader in high performance specialty materials, and Tokai COBEX, a key player in the field of high efficiency and low carbon anode materials. Demeter, a fund specialising in financing the energy transition, is also involved with its Ecological Transport Modernization Fund (FMET).
The local academic and industrial landscape, which includes Verkor, is in the midst of a powerful wave of innovation. Europe needs to be able to manufacture battery cells locally, thereby creating jobs and investment opportunities across the continent. According to the European Battery Alliance, set up by the European Commission in 2017, over €250bn will need to be invested in the European battery market by 2025. In France alone, at least three gigafactories will need to be built by 2025 to meet growing market demand.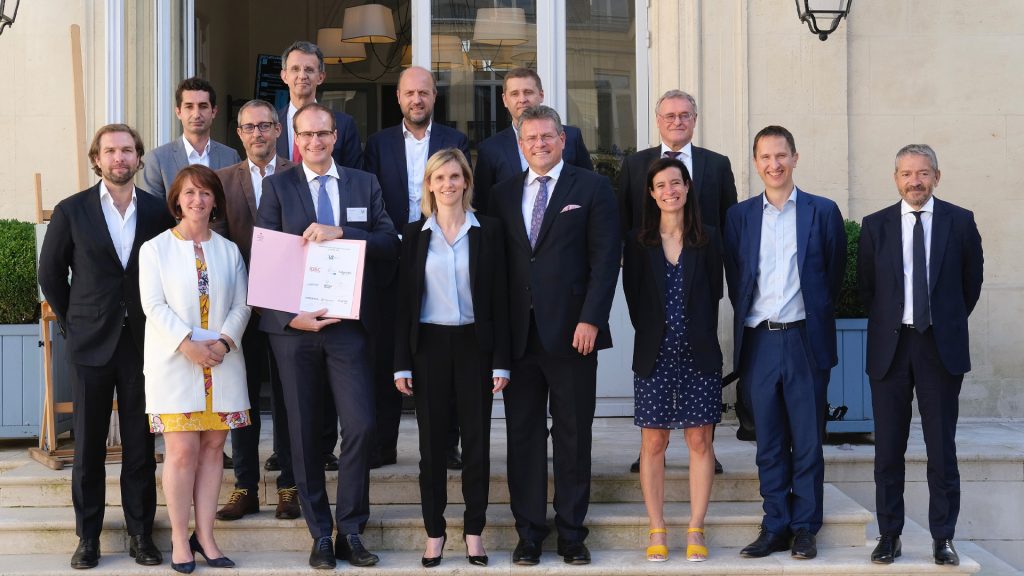 Battery manufacturing and production challenges
The massive development of the electric vehicle and the production of intermittent electricity is quickly increasing the need for batteries. Without rapid consolidation of the sector, Europe will see its domestic demand captured by industries outside Europe and will suffer from major technological dependence.
Thanks to the VIC, and afterwards our gigafactory, we will inject new industrial dynamics in France. The centre's innovations will boost the decarbonisation of European mobility, while contributing to its technological sovereignty as well as to the sustainability of French industry.
Our positioning is very clear: we want to be the best battery manufacturers, with the lowest environmental footprint, the best competitiveness, and the best efficiency.
We also recently announced our partnership with Renault Group to accelerate battery production in France. This partnership aims to co-develop and produce new high performance and low carbon battery cells, which will be partly intended for Renault Group's premium vehicle programmes.
The development of these cells will be carried out within the VIC, which will be operational in 2022. The VIC will host a 4.0 pilot line, an R&D centre, the prototyping of modules, test facilities, as well as the training of a new generation of engineers and technicians.
A model of excellence, competitiveness, and use of resources are the innovations developed within the VIC and will be integrated into the gigafactory's construction in 2024. Several locations in Europe are still being studied with regard to the implementation of the gigafactory.
Today, Verkor is positioning itself on existing technologies that have already proven their worth. Our strategy is to improve existing manufacturing processes and to develop new ones on the basis of excellence manufacturing. It is in the aspects of Industry 4.0 that we wish to stand out, in particular, backed by our partners and experts in the fields of data and digital, Schneider Electric and Capgemini.
Creating a sustainable battery life cycle
Recycling is one of the major challenges of our strategy, and this aspect has been part of our DNA from the start. In terms of sustainability, we are working on three key aspects: material traceability, product life cycle analysis, and the recycling of SCRAPs. On each of these subjects, we wish to integrate key partners and experts to constitute a strong local ecosystem.
We lead the way on recycling topics; the full battery life cycle approach and mastery of the entire value chain, from material sourcing to recycling, has been part of our roadmap since the beginning.
Innovation in sustainability is not only about products. The business model that we are creating is attractive and in touch with societal aspirations, and as a company, our people make the difference, with autonomy, responsibility, and fun.
Benoit Lemaignan
CEO
Verkor
Tweet @VerkorSA
www.verkor.com
Please note, this article will also appear in the seventh edition of our quarterly publication.