Professor Frédéric Pichelin, the Head of Institute for Materials and Wood Technology at Bern University of Applied Sciences, outlines how the recently-launched Timber Startup Incubator fosters innovation in the field of sustainable development.
The COVID-19 pandemic has demonstrated that many business models need to be reinvented, as a sustainable and local economy is now becoming increasingly important. There is a new generation of entrepreneurs who are strongly motivated to accelerate this transition, among whom are those working in the field of wood technology. To support them, the Institute for Material and Wood Technology has helped to establish a timber start-up incubator, which has now been launched. The actors involved in the Incubator are the Initiative Holz BE, the Bern University of Applied Sciences BFH, and the Switzerland Innovation Park Biel/Bienne, with the support of the Swiss Wood Innovation Network (S-WIN) and Be-advanced.
The first Timber Startup Incubator Event 2020 was held as part of the Startup DAYS conference which took place in Bern, Switzerland on 5-6 October, and the specific needs of start-ups in the timber and wood technology sector formed the main topic. The event enabled the participating start-ups to expand their network and meet investors from the timber industry in person.
After an intensive exchange between the young founders and the investors, a pitching battle took place between the 10 start-ups. The winner was 'WoDens' and its innovative process designed to replace tropical wood.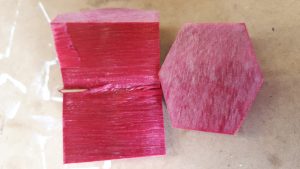 WoDens: producing tropical wood with European wood species
There is a long tradition of using tropical wood for expensive furniture, luxury objects, and musical instruments. Tropical wood is a valuable raw material due to its exceptional properties, which include high density, hardness, and aesthetic look. The tropical species are native to Africa, America, and Asia, and are imported by other countries around the world. However, many are endangered and are listed as such by the Convention of International Trade in Endangered Species of Wild Fauna and Flora (CITES). Tropical wood therefore tends to be very expensive, not easily available, and risks connecting a company to the illegal timber trade. Moreover, the coronavirus crisis has now shown just how important it is for companies to increase their economic resilience with domestic material supply.
The WoDens Technology spin-off from the Institute for Materials and Wood Technology thus offers a solution by creating a new material by modifying sustainable domestic wood that has similar properties and a similar appearance to tropical wood. With this modification, the properties of non-treated wood, such as density, hardness, scratch resistance, colour, colour change under UV radiation, and resistance to biodegradation are improved and come to be comparable to tropical wood.
The WoDens team developed a concept for a new technology where they built a lab-scale machine that is essentially a closed system where parameters such as the moisture of the wood, steam, pressure, and temperature can be controlled. In addition, they combined the closed system with artificial intelligence by using a machine learning model that predicts the final characteristics of the wood. According to customers' needs, they then combine the process of densification with the impregnation of the wood to achieve the desired colour. Their focus is to bring a novel raw material to their customers which has performance characteristics comparable to tropical wood species, including a pre-determined colour tone, density, and so on.
Elena Nedelkoska, the co-founder of the spin-off, impressed the jury from the Gebert Rüf Foundation's 'First Venture' programme with the WoDens technology and so received a financial contribution of CHF 30,000 as well as access to a personal business training and coaching programme.
'First Ventures' supports Bachelor's and Master's students from universities of applied sciences who develop an innovative business idea in their final thesis and who want to pursue it after graduation. This is not just about financial support, of course; the support programme also includes an individual business training and coaching programme to help ensure the successful implementation of the business idea.
Professor Frédéric Pichelin
Head of Institute for Materials and Wood Technology
Bern University of Applied Sciences
+41 32 344 03 42
frederic.pichelin@bfh.ch
www.bfh.ch/iwh
Please note, this article will also appear in the fourth edition of our new quarterly publication.