Don Baxter, CEO at Ceylon Graphite Corp, describes how the company will evolve into a stand-alone battery technology company through its access to the highest grade battery-quality graphite mines.
Ceylon Graphite (CYL) is a public company listed on the TSX Venture Exchange (CYL: TSX-V) involved in the exploration and production of graphite in historic vein graphite jurisdictions in Sri Lanka. It holds a land package constituting 121km² of exploration grids containing historic vein graphite deposits. These unique and comparatively higher margin vein deposits currently make up less than 1% of graphite production worldwide. These exploration grids represent the majority of known historic graphite resources in Sri Lanka. The relevant areas where these grids reside have previously had historical production dating back to the 1920s and 1930s.
Sri Lanka is the only area in the world that can produce commercial quantities of vein graphite. As Sri Lanka's premier graphite company, Ceylon Graphite aims to help the country tap this top resource as Sri Lanka has the highest quality of vein graphite, which is believed to be formed by hydrothermal fluids. It is said that graphite has been used locally as far back as the middle of the 1600s.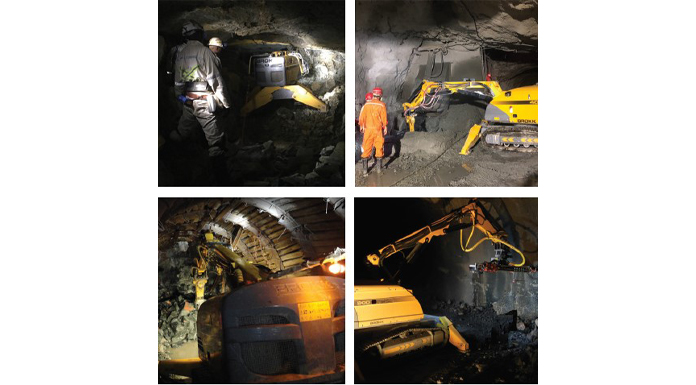 CYL currently has two development sites, K1 mine and M1 mine, and eight additional mining sites under various levels of development. Most are past producer sites with significant, regional vein structures. Each of the ten mentioned sites promises 5,000 tonnes per year at a development cost of $2 million each. Each mine is expected to have gross margins after royalties of 70% at the current un-processed graphite price of $1,800 per tonne.
There is a critical need for battery-quality graphite, both natural and synthetic, to meet the rapid growth of the EV sector. Multiple cathode chemistries persist and are being developed. All of the various lithium-ion battery chemistries utilise graphite anodes. The exponential growth from the EV sector alone will propel the industry's graphite requirement far beyond any demand from the traditional industrial sectors.
Benchmark Mineral Intelligence shows graphite demand for lithium-ion batteries alone will exceed four million tonnes of processed graphite for batteries. At least 70% of that demand will be for natural graphite, but synthetic graphite will still be in the mix. Natural graphite for batteries registers at half the cost of synthetic graphite and a much better environmental footprint from mine to battery. Synthetic graphite is produced in an energy-intensive process, utilising petroleum coke as the precursor input material. The current price of battery-quality graphite is $10,000 per tonne, which is expected to continue to increase as its supply deficit widens.
CYL is in the process of negotiating an off-take agreement with an EV battery manufacturer to sell battery-quality graphite at the significantly higher sales price of $10,000 per tonne, which would require the development of a processing facility and an estimated development cost of $60m.
The K1 graphite mining project

K1 is Ceylon Graphite's first mining project and operates under the Sarcon Development legal umbrella. This site has received an Industrial Mining License Category A from the Geological Survey and Mines Bureau. An Industrial Mining License Category A is the highest category license in Sri Lanka. It grants exclusive rights to mine, process and trade in graphite mined within the area specified in the license. It also allows for underground multi-borehole blasting, commercial production, use of all mining machinery and equipment and export of graphite. Currently, historic resources are being upgraded to NI-43-101 standards and will confirm the long life of K1 mine and M1 mines. The resource status of Ceylon Graphite will be continually upgraded as more mines are brought online.
Ceylon is currently updating long and short-term mine planning and modernising mining methods to increase the mechanisation and utilise access to all mines, along with increased hoisting capacities. Small-scale, specialised, multi-tool electric track mounted mechanisations, suited for small-scale vein mining, are being evaluated to maximise production from each mine.
An environmentally friendly process

CYL is also unique in its vein graphite's high-grade and purity that does not require conventional primary processing (therefore, no tailings, waste rock dumps or AMD issues). Furthermore, underground mining minimises ecological impact, which is an absolute requirement for EV battery manufacturers. The proprietary process flowsheet significantly reduces the number of processing steps to only four to get to battery-grade materials, which is also environmentally friendly as 99.995% of the process is from a non-acid process.
Processing and upgrading graphite

Material test work conducted by Ceylon early on in the development produced critical results that confirmed the path for the mine to battery strategy adopted by Ceylon. CYL intends to upgrade its graphite to battery-grade material — critical for EVs. Recall, battery-grade graphite fetches a market value of approximately $10,000 per tonne, compared to $1,800 per tonne without the upgrade.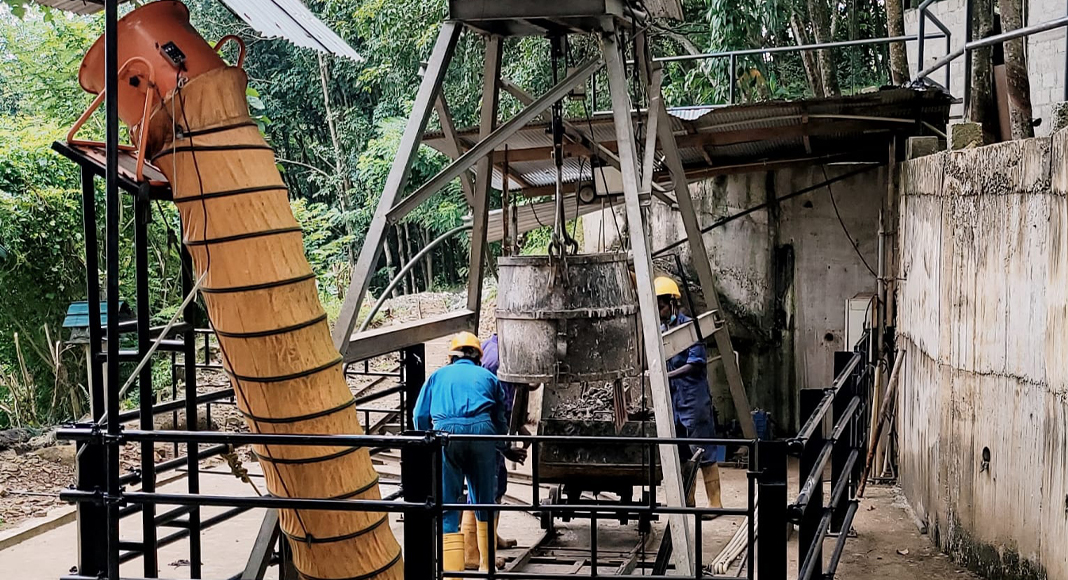 Ceylon announced that it achieved a significant breakthrough in the performance of its vein graphite anode material (C 99.995%) in coin cells for the lithium-ion (Li-ion) battery market. In tests at a leading global, independent facility, WMG, part of the University of Warwick's Energy Innovation Centre, Ceylon's vein graphite anode material far exceeded comparable anodes made with standard synthetic commercial graphite. This is the first time in battery research history that commercial spherodised vein graphite materials were tested in a lithium-ion battery in a coin cell.
Results came in a 382 mAh/g for reversible capacity (RC), which is beyond what is expected for the best current commercially used synthetic graphite with an RC of 363 mAh/g. Data was collected from five separate coin cells for Ceylon Graphite and for commercial synthetic supplier materials. The Galvanostatic charts below illustrate these results: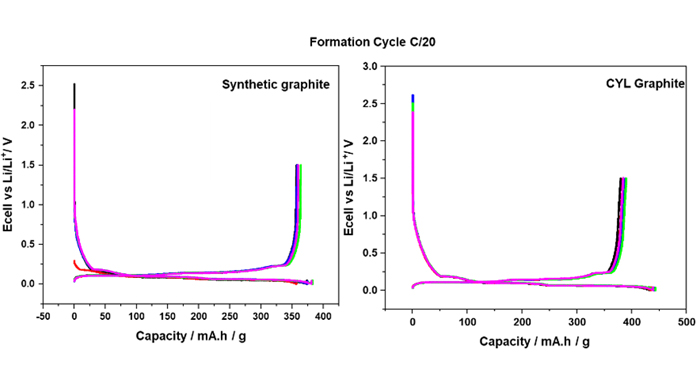 The C/5 stable cycling gave an average reversible capacity of 353 mAh/g with a standard deviation of 9 mAh/g over 25 cycles compared to the synthetic supplier 307 mAh/g. The batteries are tested at a rate of C/5, meaning five hours to charge and five hours to discharge, hence completing about two full cycles per day.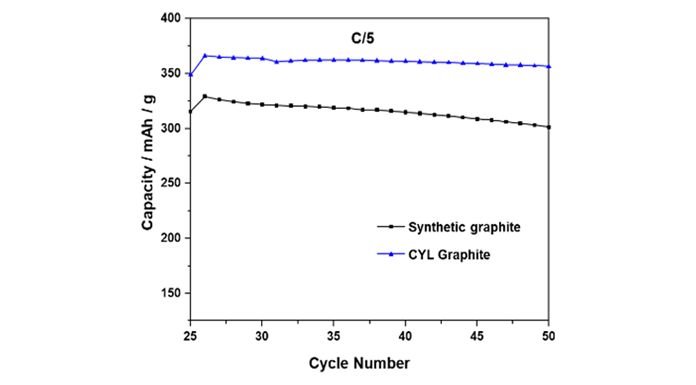 The outstanding performance of Ceylon's vein graphite material against the current commercially used synthetic graphite is due to the high crystallinity of Sri Lankan vein graphite. The initial results prove the suitability of Ceylon's material for lithium-ion battery anodes for either stand-alone or possible blending with synthetic graphite.
These results are a highly significant development for CCYL. The unique characteristics of Ceylon's Sri Lankan vein graphite, combined with our proprietary processing technologies, produce a Li-ion battery with significantly higher power and energy as tested by WMG. The company considers that, based on the results, Ceylon's graphite will set a new industry standard. In addition, it believes that the energy consumption of the end-to-end process of producing battery-grade anode material from vein graphite is the lowest, relative to synthetic and flake graphite, because vein graphite from Sri Lanka does not require primary processing due to the high in situ grade above 90%Cg.
The test results and Ceylon's unique position in the market create optionality for scale-up development, commercial partnerships and sales of advanced materials. Ceylon's significant resource positions and the energy products division (Ceylon Graphite Technologies (UK)) will allow the company to evolve into a stand-alone battery technology company, with exclusive access to a lower cost and unique, high-performance battery-grade graphite, sourced from our wholly-owned deposits in Sri Lanka.
Please note, this article will also appear in the eighth edition of our quarterly publication.