Queensland Pacific Metals (QPM) has announced it has received A$900m in total indicative debt financing commitments for the TECH Project.
Following the release of TECH Project's Advanced Feasibility Study, QPM has received an updated non-binding letter of interest for the provision of debt funding for up to A$400m from Export Development Canada (EDC), Canada's export credit agency.
Additionally, Northern Australia Infrastructure Facility (NAIF) and Export Finance Australia (EFA) continue progressing with due diligence with the TECH Project on potential debt financing commitments of $250m each. This takes the total debt financing commitments to $900m currently.
Dr Stephen Grocott, the Managing Director and Chief Executive Officer of QPM, explained: "We are delighted at the response received to date from financiers, in particular Export Development Canada, and their willingness to consider debt funding for the TECH Project.
"Our strategy has been to target government-backed lending agencies, and we greatly appreciate the indicative support received to date. We look forward to advancing through due diligence and through to credit approvals."
What's next for the project's debt financing?
The TECH Project aligns with the objectives of the Australian Government's Critical Minerals Strategy – to diversify the global critical minerals supply and capture more value from the global critical minerals value chain.
The interest from EDC is spurred in relation to potential equipment and services supply from Canadian companies for the construction of the TECH Project. The provision of financing by EDC is subject to the successful completion of its due diligence process and typical project finance conditions such as security, debt serviceability, and equity financing.
NAIF and EFA are continuing financing discussions with QPM. Previously, NAIF advised QPM that the project has passed the Strategic Assessment Phase of the application process and is now in the Due Diligence stage.
EFA has already assessed the TECH Project, meeting the agency's mandate to provide financial expertise and solutions to support Australian businesses across various industries, including critical minerals. EFA is now performing detailed due diligence on the TECH Project.
QPM is collaborating with debt advisor KPMG Corporate Finance to accelerate discussions with other lenders, such as K-Sure, who previously provided a Letter of Interest. K-Sure has a Memorandum of Understanding with EFA to strengthen its capacity to work together and undertake joint financings.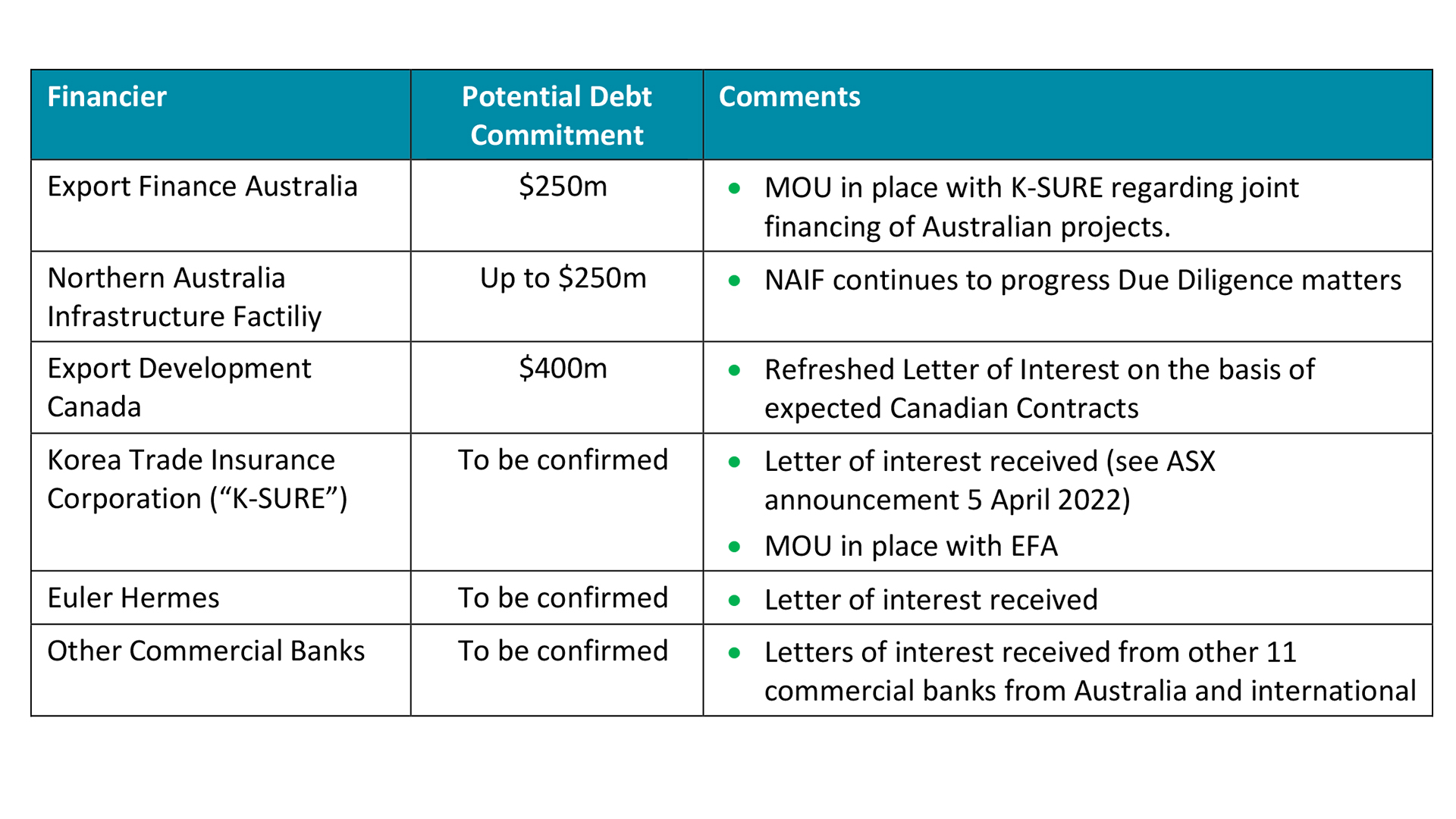 Go to this partner's profile page to learn more about them