Danish-based company Daniit A/S has now developed a feeding system for land-based RAS systems which is capable of handling fish feed pellets without crushing them.
One of the well-known challenges in the aquaculture business is to avoid fish feed pellets getting crushed through transportation and feeding. Due to the mechanical design, some traditional feeding systems are not capable of handling fragile fish feed pellets, which are easily crushed, in a sufficiently gentle way. This issue causes several problems, including higher feed consumption, higher load on the water cleaning system, increased power consumption, increased production of sludge, and others – all of which significantly increase production costs.
Danish-based company Daniit A/S has now developed a feeding system for land-based RAS systems which is capable of handling fish feed pellets without crushing them. The system has been developed in conjunction with another Danish company, which is one of the largest producers of traditional feeding systems for the agriculture business.
Successful trials
Daniit has recently (Q4/2020) installed and commissioned the new fully-automatic feeding system in one of the largest RAS facilities for salmon production, located in northern Denmark. The feeding system automatically handles the dosing and transportation of pellets to 48 dosing augers, corresponding to over three tons of feed per day.
Trials with pellets ranging between 2.5mm to 10mm in size have proven that fines are reduced to <0.4%. Compared to traditional feeding systems, which generate 5-6% in fines, this is a significant reduction. Test runs with pellets up to 13mm are ongoing, with positive results achieved so far.
The feeding system handles automatic dosing from one silo, as well as combining dosing from several silos if mixing more pellet sizes is required. Dosing the correct amount of feed is secured by means of high accuracy weigh scales. Compared to other feeding systems which only use volumetric dosing, overdosing is eliminated, which reduces the costs.
One of the significant key features of the Daniit feeding system software is that the operator can freely choose between different ways of allowing the system to calculate the amount of feed to be dosed in each fish tank per day. This includes:
According to SGR (Standard Growth Rate) and FCR (Feed Conversion Rate)
% of actual biomass in each tank
Fixed amount (in kilos).
Calculating the amount of feed per day per tank also takes other issues into consideration, such as:
Total biomass (number of fish X average weight of fish)
Mortality (by registering the number of dead fish per day)
Boost factor
Appetite factor
Water temperature.
Daily feeding is planned via configurable feeding schedules, which includes planned feeding breaks during the day. This means that the planned amount of feed is dosed whenever is most optimal with respect to the behaviour and appetite of the fish.
It should also be highlighted that the future suspension of feeding schedules can also be planned in advance. This is valuable when planning the purge of fish for slaughtering so as to avoid or minimise geosmin which negatively affects the taste of the fish.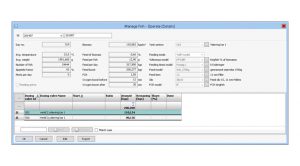 'DaniitWTC' – the overall process management system
Daniit A/S has several years of experience in developing an overall process management system software for land-based RAS systems, known as 'DaniitWTC'.
The DaniitWTC process management system software is tailormade to supervise and control all the equipment and functionality necessary for operating a land-based RAS system. Among these are:
IWTP intake water
CO2 degassing (stripper)
Oxygenation of process water
UV treatment
Ozone addition
pH regulation
WWTP wastewater handling
Water level
Pumps, drum filters.
DaniitWTC can also be connected to energy meters in order to monitor and optimise energy consumption. Furthermore, by connecting devices such as frequency inverters, pumps, sensors, etc. to the DaniitWTC system, predictive maintenance is possible, enabling early warnings for equipment before failures occur.
All process values as well as all operator-initiated events are stored for reporting and analysis purposes. Pushing data to the Cloud is the obvious choice here, both to existing customer-driven cloud solutions, as well as third party driven solutions, where analysis tools, machine learning, business intelligence, dashboards and KPIs are keywords.
The feeding system, as previously described, is, of course, fully integrable into DaniitWTC, meaning that even more valuable benefits are achieved, such as:
Pre-oxygenation of process water before feeding
Full traceability of biomass, feed, and energy
Total access to data for calculation of KPIs
Registration of fish welfare (% biomass per m3 water volume).
Traceability secures food safety
One of the corner stones in the 'DaniitWTC' software are the traceability features. In short, one should understand the term 'traceability' as keeping track of the life cycle of the fish. Essentially, the aim of traceability is to be able to document the fish's life by tracking backwards.
When a new population (a new 'batch') of fish is put into a certain tank, this is registered in 'DaniitTWC', by which a unique ID for the specific population is created. Different kinds of information are attached to this unique ID, such as the weight and count of the fish, supplier's information, origin information, etc.
Through the entire life cycle of the fish, additional data types are also attached to this unique ID, such as information on which type and amount of feed the fish have received throughout their life cycle, the fish's growth rate, etc.
Sorting fish during their life cycle is a common procedure. For example, small fish from one tank (Tank One) may be mixed with small fish from another tank (Tank Two). The fish from both tanks may then be moved to Tank Three. This creates a new population with its own unique ID, which will refer to the unique IDs for both Tank One and Two, meaning that all data that has been registered over time for Tanks One and Two will now refer to the new population in Tank Three.
Please note, this article will also appear in the fifth edition of our quarterly publication.