Innovative biotechnological company Proteon Pharmaceuticals SA has established the Phage Development Platform, which is providing novel solutions to overcome antibiotic resistance.
Since their discovery, antibiotics revolutionised medicine, helping to fight microbial diseases and to develop various medical therapies. However, over the years antibiotics were used carelessly in industry, not only to treat, but also as growth promoters in plant cultivation and animal breeding. Tonnes of antibiotics are introduced into the environment every year, and they accumulate in both soil and water. This results in the destruction of ecosystems and, moreover, in the development of antibiotic resistance.
Bacteria has evolved different mechanisms, such as gene mutations and horizontal gene transfer, that allow them to propagate and pass resistance to antibiotics to next generations. Every year, there are more and more reports about multi-drug resistant bacteria. It is essential to reduce this phenomenon by searching for new methods that may replace antibiotic therapies and aid in overcoming antibiotic-resistant bacteria.
Phage therapy may be a new hope
Bacteriophages, known as 'bacterium eaters', are naturally occurring, highly specific viruses. They are active against particular species and even strains of bacteria due to recognising receptors on the bacteria's surface. Their action method is different to that of antibiotics, and so they are a great tool in the fight against antibiotic resistant bacteria.
Unlike antibiotics, phages will not have a negative effect on the microflora of the treated organism, or on the environment. A significant advantage of phages over antibiotics is also their ability to react to changes. Bacteria striving to develop resistance against phages have a much more difficult task, since phages may also evolve and bypass the bacterial defence mechanisms. What is more, phage resistant bacteria are not always associated with negative effects. They frequently exhibit a decline in bacterial virulence because of the loss of the ability for colonisation and their increasing sensitivity to other phages.
An important benefit is also the fact that bacteriophages reproduce on their own, so a small and precise dose may be sufficient; but if no target bacteria is present, the bacteriophages will cease to function and will not accumulate in the environment. Thus, they may be considered as self-dosing.
Phage therapy was introduced a century ago, in the early 1900s, but was discontinued on a large scale after the introduction of antibiotics. However, research has not stopped in some places and has continued in others, including Poland.
We now have a good understanding of phage biology, genetics, and immunology, which has allowed phage therapy to be rediscovered. By engaging certain tools and processes, it is possible to implement bacteriophages as an effective instrument against bacteria. Many studies suggest that properly developed bacteriophage cocktails give very satisfactory results, both in medicine, agriculture, and aquaculture.
Novel solutions
Proteon Pharmaceuticals SA, an innovative biotechnological company from Poland, has over 10 years of R&D experience in bacteriophages. This has allowed us to develop novel solutions that engage bacteriophages and the latest scientific technologies to support the fight against antibiotic resistance.
The company's portfolio includes reliable, natural products against various animal diseases. The flagship product BAFASAL® eliminates Salmonella in poultry farming and can be used both as a prophylactic and post-infection. It has been proved in many commercial applications that BAFASAL® reduces Salmonella levels as much as 200 times, while also improving feed conversion rates and reducing animal mortality. One important direction of Proteon's development is in the aquaculture sector. Its first product aiming at aquatic pathogens – BAFADOR® – prevents Pseudomonas and Aeromonas infections.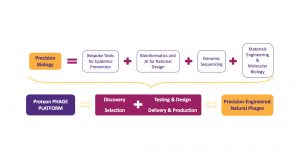 Proteon's solutions are based on the latest science achievements and connect bioinformatics, Artificial Intelligence, genomic sequencing, materials engineering, and molecular biology to significantly increase the effectiveness of phage therapy. The Phage Development Platform is the whole process from phage hunt to large scale industrial production of final preparation. It is utilised in-house and is supervised by Proteon's specialists.
The Phage Development Platform
The first step is to understand the bacterial disease, identify the pathogens that are responsible for the disease, and then predict how they develop. Then, using a number of screening methods, Proteon's R&D specialists search for bacteriophages that must fulfill a number of strict criteria. At this point it is not only efficacy that is taken into consideration. Potential bacteriophages have to be lytic, which means they are deadly to bacteria and not only inhibit their growth. Moreover, they must be stable at given temperatures for a given time, and effective production at industrial scale must also be possible. Those initially chosen phages can then be used as a base to build a reliable industrial bacteriophage product.
Every selected phage undergoes full genomic sequencing. In order to increase the activity spectrum, bacteriophages are then mixed into cocktails, and various stabilising solutions are created to maintain effectiveness and bioactivity even for months. Further analysis includes wide in vitro and in vivo testing. This assures the safety of the product and allows the optimal necessary dose to be defined. The optimisation of production process allows for the repeatable, scalable, and cost-effective preparation of the final phage cocktail.
Thanks to novel bioinformatics tools, sequencing technology, and years of experience in phage hunting and propagation, Proteon Pharmaceuticals provides highly desirable products that are active against antibiotic-resistant bacteria. With its a global view, Proteon develops the products in such a way as to be effective in all parts of the world.
In addition, all diagnostic tools are constantly improved to keep up with novel scientific methods, which allows for the further advancement of the phage products. The constantly expanding knowledge and technical possibilities will also contribute to the development of increasingly effective production methods on an industrial scale, as well as to the reduction of isolation costs.
References
Gordillo Altamirano FL, Barr JJ. 'Phage therapy in the postantibiotic era'. Clin Microbiol Rev. 2019;32(2):e00066–18
Chan BK, Abedon ST, Loc-Carrillo C. 'Phage cocktails and the future of phage therapy'. Future Microbiol. 2013;8(6):769–783
Wójcik EA, Stańczyk M, Wojtasik A, Kowalska JD, Nowakowska M, Łukasiak M, Bartnicka M, Kazimierczak J, Dastych J. 'Comprehensive Evaluation of the Safety and Efficacy of BAFASAL® Bacteriophage Preparation for the Reduction of Salmonella in the food chain'. Viruses. 2020; 12(7):742
Kowalska JD, Kazimierczak J, Sowińska PM, Wójcik EA, Siwicki AK, Dastych J. 'Growing trend of fighting infections in aquaculture environment-opportunities and challenges of phage therapy.' Antibiotics (Basel). 2020;9(6):301
Please note, this article will also appear in the sixth edition of our quarterly publication.