American Battery Solutions has established itself as a leader in the engineering, development and manufacturing of battery solutions. Here, they discuss the innovative battery technology that has made them experts in the field.
In the thirty years since the first lithium-ion cells were made commercially available. Battery technology has improved at an amazing pace. It is largely due to the commercialisation of lithium-ion batteries that our society has transitioned towards a truly mobile and global environment. Today, as the consumer electric vehicle is quickly becoming mainstream, this same technology is starting to be applied to a much wider range of applications, ranging from autonomous warehouse robots to construction and agriculture vehicles and heavy-duty trucks and buses. Supporting these underserved and emerging markets is the reason for which American Battery Solutions (ABS) was founded.
Battery DNA
ABS was founded in 2019, but its heritage dates back to the early 1980s. The ABS team is comprised of some of the best battery system experts and innovators in the industry, with decades of experience in designing, developing, and manufacturing advanced battery systems. Collectively, our team members have helped launch many of the most well-known and iconic electric vehicle battery programmes with OEM customers like General Motors, Fiat Chrysler, BMW, Daimler-Mercedes, and others. Backed by a substantial investment from KCK Group, a principal investment firm with offices in London, New York, the Bay Area of San Francisco, and Dubai, ABS had a massive head start by acquiring the manufacturing and battery testing assets from Robert Bosch Battery Systems in Michigan and Ohio. This acquisition included an established 170,000 ft2 manufacturing footprint in Springboro, Ohio and an engineering tech centre in Lake Orion, Michigan with state-of-the art cell, module and pack testing facilities. In the Michigan tech centre, we have a flexible manufacturing prototype and low volume module line that is capable of building with all three major cell form factors – cylindrical, prismatic, and pouch. ABS is a flexible manufacturing facility with the ability to manufacture multiple types of battery packs and modules on the same line. Our company uses the latest innovations in cell-to-cell joining technologies, including both laser and wire bonding techniques to make cell to cell connections. In Ohio, the ABS facility has over 15 years of zero parts per million (PPM) quality performance, having delivered over 60,000 battery packs. At the same, time the ABS facility has the capacity to build over 8GWh of cells, including 200,000 modules and 50,000 packs per year, with plenty of room to expand operations.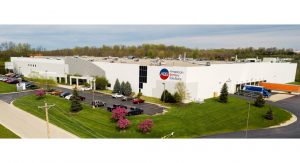 ABS has assembled a world-class team of dedicated and experienced engineers. This team brings a deep understanding of high voltage, automotive-grade battery systems and can take an idea from concept development and prototyping to testing and validation, straight through to high volume production. We are now leveraging our automotive experience to develop battery solutions to electrify the underserved market segments in transportation, motive industrial, and commercial sectors.
A leading battery technology innovator
Bringing this team of battery systems experts together is ABS' founder, Chairman, and CEO, Subhash Dhar. Dhar has a long and distinguished career that has been entirely focused on developing the next generation of energy storage technologies. He was formerly CEO of XALT Energy, a leading manufacturer of lithium-ion batteries and founded lead acid battery systems maker, Energy Power Systems. Dhar served as Chairman and CEO of Envia Systems, a Bay Area company engaged in developing advanced lithium-ion battery technology; and served as Vice-Chairman of EnerDel and President of its parent Ener1 Inc. Prior to that, Dhar was the founding President of ECD-Ovonic Battery Company, from 1982 through 2003, where he developed and commercialised the nickel metal hydride (NiMh) battery technology which has powered today's hybrid electric vehicles globally, and became the backbone of the Prius hybrid in the late 1990s.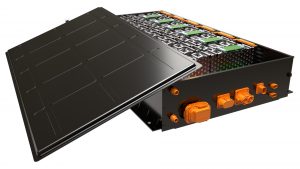 Dhar's experience extends beyond battery technology development as he has also set up business alliances and manufacturing operations in Japan, China, Europe, and the US. He has also been involved in many aspects of alternative and advanced technology including hydrogen generation, hydrogen storage, and fuel cells, serving as the President of Ovonic Fuel Cell Company, and CEO of Brazil-based Eletra Hybrid Bus, and as CEO of PlasmaDrive, a company engaged in the development of a novel combustion technology.
Bringing new, innovative products to market
ABS brings together all this experience and market knowledge to meet our customers' needs for both custom and standardised pack designs. In the standardised family, ABS is launching a series of low-voltage and high-voltage battery pack solutions. The low-voltage ALLIANCE Intelligent Battery Series™ contains a unique set of features that allows it to be used in a wide variety of applications.
ALLIANCE modules come in 48V, and 24V options in 2kWh and 3kWh energy increments. The ALLIANCE series batteries pave the way for simple integration and drop-in replacement of lead-acid batteries, both in original OEM applications as well as an aftermarket replacement. They are designed to be handled like a lead-acid battery, without a need for 'white glove' treatment. The ALLIANCE products focus on those niche applications which tend to require lower power demands but still expect a very highly engineered solution. Products are used in applications ranging from autonomous warehouse robots to neighbourhood electric vehicles, construction and maintenance equipment such as scissor lifts and floor cleaners, and are even replacing diesel gensets on sail boats.
The high-voltage PROLIANCE Intelligent Battery SeriesTM product line-up includes a series of 350V battery packs starting at 50kWh and 100kWh for use in a wide range of light and medium duty delivery and commercial vehicles, mining vehicles, construction, and other vehicles, as well as a 650V 110kWh battery pack targeted for use in medium and heavy-duty trucks. These packs integrate ABS' battery management system and multi-pack management functionality with a liquid cooled thermal management system all in a self-contained unit. For customers with very low volumes these standardised packs offer the benefits of a high-volume programme due to their common design while enabling ABS to offer the benefits of high-volume cell pricing due to our ability to consolidate many low volume programmes.
ALLIANCE Intelligent Battery Series
All ABS product solutions are flexible and can adapt multiple lithium-ion chemistries with varying types of electrical characteristics to meet a wide variety of application needs. The ALLIANCE family is offered in a 48V, and 24V and is sure to fit a multitude of lithium-ion energy needs. The Industrial or 'I-Series' ALLIANCE Intelligent Batteries Series includes 24V, and 48V and options each with 3kWh of energy. This revolutionary series provides a design that can be used to replace standard GC2 lead-acid battery installs.
Features and advantages of ALLIANCE Intelligent Battery Series, E-Series and I-Series include:
Modular design which allows us to keep the costs low;
Flexible designs to adapt the changing cell chemistry and cell design over time – 'future proofing';
Proprietary software algorithms for operation and charging protocol; and
Faster and lower cost development cycles.
ALLIANCE Intelligent Battery Series benefits include:
Flexible, scalable solutions;
Fits a diverse set of applications;
High temperature compatibility;
Advanced monitoring and diagnostic reporting;
Modular design that enables customised packs using a standard core; and
Sealed enclosure eliminates potential for debris and weather to get inside the pack.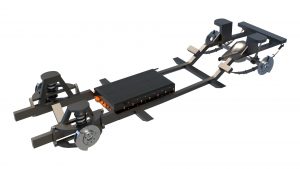 Also included in the ALLIANCE Intelligent Battery Series line up is the industrial series inclusive of I24-3.0, and I48-3.0.
PROLIANCE Intelligent Battery Series™
Launching in mid-2022 will be ABS' first line-up of standardised high-voltage packs, the PROLIANCE Intelligent Battery Series. PROLIANCE will offer both 350V and 650V solutions in 50kWh and 100kWh increments. These batteries will integrate the next generation of battery technologies, with highly efficient thermal management systems, next generation battery management systems, and some of the highest volumetric and gravimetric pack energy densities on the market.
PROLIANCE Intelligent Battery Series benefits include:
Flexible, scalable solutions – stack in parallel or series;
Designed for use in a wide range of on-road and off-road vehicle applications;
Highly efficient, liquid cooled thermal management system;
Advanced monitoring and diagnostic reporting;
IP65 sealed enclosure eliminates potential for debris and weather to get inside pack;
Based on industry standard cell sizes, which enables future-proofing; and
Designed to meet rigorous SAE and IEC Safety and Abuse testing.
The intelligent Battery Management System (BMS) allows modules to be easily added in parallel without the need for reprogramming, effectively making lithium-ion battery installation an easy retrofit with half the size and weight of lead acid batteries while offering zero maintenance and longer life. Our BMS are developed using automotive level design practices and automotive grade AEC-Q components. They are compatible with ISO-26262 ASIL integrity levels (Level C for high-voltage and Level B for low voltage) and are fully integrated in our products, offering worry-free operation and the ability to connect multiple packs in parallel without a master controller. Communication protocols are tailored to target market sectors, with CAN-Open available for motive power, SAE J1939 for industrial equipment, and CAN2.0A for electric vehicle applications.
ABS is also thinking about the future by package protecting for the implementation of wireless BMS technology which will reduce costs, reduce complexity, and improve performance.
With these products as the baseline, ABS can create custom solutions for both low and high voltage markets. By offering both low and high voltage off the shelf solutions it clearly defines ABS as a unique competitor in the market. Establishing a wider customer base and sharing common architecture designs within different application needs. As an emerging battery pack technology company, ABS strives to meet the needs of both low and high voltage customers not only in the US but also globally.
Bringing it all together
ABS is a one-stop-shop, providing engineering, validation, and manufacturing for custom battery projects as well as offering a series of standard battery packs. ABS provides fully integrated, high performance and reliable lithium-ion battery packs to customers with limited or no access to high quality and reliable systems for electrified vehicles and stationary storage applications. We offer full service for complete stored energy solutions that meet or exceed our customers' performance requirements. With our experienced and knowledgeable team in battery chemistry, battery engineering, battery management, battery hardware and software, and extensive background knowledge in application engineering, we are designing, developing, validating, and manufacturing lithium-ion rechargeable energy storage systems (RESS) for a variety of industrial and commercial applications ranging from 24V to 650V solutions.
We have partnered with world-class suppliers of lithium-ion cells in cylindrical, prismatic and pouch form factors. This enables our products to offer lightweight, lowest volume packaging, which in turn provide longer range and run time. Our knowledge of cells and chemistries allows us to select just the right cell for your application. Partnering with a leading provider of NCA, NCMA, NMC, and LTO cells enables both high energy, high power, and fast charge solutions that are modular and easily incorporated into your system or stand alone as a custom solution.
Please note, this article will also appear in the sixth edition of our quarterly publication.