British Lithium Limited is making significant progress in its plan to produce battery-grade lithium carbonate from Cornish granite.
At a time when achieving clean energy and a low carbon economy are seen as key components of our global future, British Lithium Limited is making significant progress in its plan to produce battery-grade lithium carbonate from Cornish granite.
The company used its innovative technology in 2017 to separate and concentrate the lithium containing mica from Cornish granite and to extract high grade lithium carbonate – the first time this was ever achieved in the UK.
Following three years of intensive research and exploration, the company has now announced the results of a 13 tonne bulk test of locally mined hard-rock granite.
"Our analysis is showing higher grades of lithium than anticipated and that is very exciting," said CEO Andrew Smith. "Lithium has never been produced commercially from micaceous granite and we are the only company so far to have developed an environmentally sustainable process, established a sizeable resource, and successfully completed an economic evaluation for a full-scale development. Given the increasing demand for lithium batteries as the UK moves towards more sustainable technology, the work we are doing looks set to have a real impact on the UK's national economy, and Cornwall in particular."
Li-Sep technology®
British Lithium is developing its innovative Li-Sep® technology to firstly concentrate the lithium-mica that occurs in granite without the use of harmful chemicals, and then to extract the lithium carbonate from the mica with minimum carbon emissions and waste.
Smith said: "We have invested heavily in ongoing metallurgical test work and process design. We are now completing a state of the art, 3,800 sq. ft. lithium laboratory in Cornwall, boasting specialist test equipment built to our design, that does not exist anywhere else in the UK."
Work is underway to build a pilot plant at their base near St. Austell. If all goes according to schedule, full-scale production from a purpose-built quarry and refinery will start in three to five years' time.
Experience
The men behind this remarkable project have a strong track record in the mining industry. CEO Andrew Smith is an engineer who previously ran an international mining team for the Cinovec lithium project in the Czech Republic (currently Europe's largest lithium resource) and British Lithium chair Roderick Smith is an acknowledged world expert in extractive metallurgy who spent more than 30 years leading publicly listed Australian mining companies as CEO. They are backed by a very strong owner's team of industrial chemists, metallurgists, and geoscientists.
Joining them as strategic advisor is John Walker, a Cornishman who started his career at global industrial mineral specialist Imerys in 1990. Currently chairman of Exawatt, a provider of strategic consulting and research in the battery, power electronics, electric vehicle, and solar photovoltaic (PV) industries, John's impressive experience includes being CEO of The Quartz Corp (TQC) for six years – a joint venture between Imerys and Norsk Mineral that, during his tenure, saw TQC progress from new entrant to a global market leader.
Supply and demand of lithium
British Lithium began drilling in the St. Austell area in April 2019, which was the first time any company had drilled for lithium in the UK. Extensive trenching work followed to establish the continuity of the discovered lithium mineralisation over several kilometres and deeper holes were subsequently drilled in December 2019 to assess the depth of the find. The results were reported and an independently certified JORC (Joint Ore Reserves Committee) Mineral Resource Estimate declared. Further drilling was completed in December 2020 and a major new drilling programme is to commence in February.
An Innovate UK Smart Grant has provided valuable funding to accelerate British Lithium's exciting research and development work.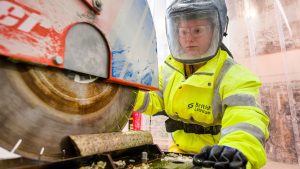 "Our proposed development would yield 21,000 tonnes of battery-quality lithium carbonate a year, which is about one third of what the UK would need when its entire car industry is converted to electric vehicles by 2030, as mandated by government," said chair Roderick Smith. "Our preference is to use the strategic advantage of a UK supply of lithium to help build out a lithium-battery supply chain in Britain, however fast-growing demand from Europe could also be met from the UK.
"The UK car industry is the biggest exporter this country has, employing some 800,000 people and making 1.3 million cars in 2018, 80% of which were exported. To meet the government's requirement, the whole of this industry needs to transform in just nine years – if output is to stay at the same level, considerable investments will have to be made in the lithium battery supply chain, and anything that gives the UK a competitive advantage will help."
Exawatt CEO Simon Price added: "At the end of 2020, the UK Prime Minister Boris Johnson announced that sales of new cars and vans powered wholly by petrol or diesel vehicles would be phased out by 2030 in the UK.
"We calculate that if the UK auto industry switches 90% of its passenger car production to BEVs in 2030, approximately 1.5 million BEVs per year will be produced, with a requirement for at least 75GWh of lithium-ion battery production capacity. Based on an estimated average BEV battery capacity of 50kWh, this means the UK will require at least 60,000 tonnes of lithium carbonate equivalent (LCE) to meet forecast demand. Based on its production targets, British Lithium would be capable of supplying one-third of this material to the UK auto industry in 2030.
"Following the UK's exit from the EU, the urgency for British-made vehicle batteries is increasing. According to recent reports, manufacturers will be faced with export tariffs if their EV batteries contain more than 70% of material from outside of the UK or EU. This will tighten to 50% from 2024."
Roderick Smith agrees that the need for UK-produced lithium has never been more pressing. "A lot of sectors are very depressed as a result of the pandemic, but we are providing environmental solutions that have huge potential for the future," he said. "The UK government is very keen to reduce carbon emissions and COVID-19 has contributed to a greater awareness of the environment and its importance. At British Lithium, we really are in the right place at the right time."
Please note, this article will also appear in the sixth edition of our quarterly publication.