With lithium being essential to the global energy transition, Savannah Resources aims to advance Europe's lithium supply chain.
Savannah Resources is an exciting mining exploration and development company listed on the London Stock Exchange AIM market, with the goal of becoming Europe's solution to its current, and growing supply shortage of lithium. The company's 100% owned Barroso Lithium Project, located in Boticas, Northern Portugal, is the most significant lithium raw material project in Europe and will produce enough lithium each year for approximately 0.5 million electric vehicle (EV) battery packs.
Since the company's inception, its strategy has evolved to become wholly focused on the exploration and development of the Barroso Lithium Project, which included the divestment of non-core assets to create free cashflow to invest directly into the development of the project. In Savannah's five years of working on Barroso Lithium, the company has invested €34.5m (US$40m) to date, with the intention to make a further €110m minimum contribution to build and implement the project.
Savannah seeks to establish the project as a responsibly and technologically innovative, managed, long-term source of lithium for Europe and the West – a metal that is playing a critical role in combating climate change. Responsibly developing and operating the Barroso Lithium Project will establish Savannah, and Portugal, as an integral part of Europe's rapidly growing lithium battery value chain which is being developed to support the continent's energy transition as it moves towards its goal of carbon neutrality by 2050, as per the Paris Agreement.
Why is lithium important?
The challenge faced by the globe is clear: we must create net zero carbon economies using innovation and technology, and transition away from the consumption of fossil fuels.
On its way to a net zero economy by 2050, the European Commission is targeting a 55% reduction in total greenhouse gas emissions by 2030. To achieve this goal, the production and sale of millions of low/zero emission EVs, and the provision and storage of greater amounts of power from renewable sources will be vital. The EU has announced that it is to raise the share of renewable energy to 40% of final consumption by 2030, up from roughly 20% in 2019, something that will not be possible without the sustainable supply of critical metals, including lithium.
Lithium-ion batteries are already used throughout our everyday lives – we have them in our pockets, on our desks, and in our homes. They are the ideal power source for smartphones, laptops, and a vast range of mobile equipment, compared to more carbon-intensive sources of energy. They have also become the preferred power source for EVs and have a growing role to play in the safe storage and distribution of power from renewable sources. The world's major economies have adopted lithium-ion batteries as the technology to underpin efforts to significantly reduce greenhouse gas emissions from vehicles to combat climate change.
As a result, for the first time, lithium is now more commonly used to build larger lithium-ion batteries to support the EV revolution that is firmly underway in the transport sector, rather than smaller batteries, including those used in smartphones. This trend is expected to accelerate rapidly over the next decade as the transition continues, meaning there is increasing concern that the world will not have the supply to meet this unprecedented demand.
Europe is already the world's second largest market for EVs, with over 2.3 million vehicles sold in 2021, which accounts for 17% of all new vehicles sold. It is also a significant producer of renewable energy, with a 22% overall contribution to the energy mix from renewables in 2020, with Portugal, in particular, registering around 60%. Based on forecasts for the growth of EV sales and other applications requiring lithium-ion batteries, such as power storage, the European Commission expects Europe's demand for lithium to grow 18 times greater than the current levels by 2030 and 60 times more than the current demand by 2050. Fundamentally, a supply squeeze comes with huge increases in price for the raw material, which will hit not only manufacturers but also end users.
Establishing a battery value chain in Europe is fundamental to Europe's energy transition and it cannot be efficiently and economically achieved without producing lithium raw materials in Europe. Furthermore, production in Europe will relieve the supply risk for local battery producers and end users and ensure that material is being sourced responsibly. This concept of an end-to-end European battery value chain, beginning with responsible raw material production and ending with a battery being recycled after its use in a vehicle or other applications, has a lower carbon footprint than sending raw materials around the globe and is supported by the European Commission.
Lithium spodumene, as found at Savannah's Barroso Lithium Project in Portugal, has been by far the most common lithium-bearing mineral exploited in economically viable deposits to date. Spodumene is typically found in pegmatites which are igneous rocks similar in mineral composition to granites but with very coarse grain sizes. The Barroso Lithium Project, therefore, represents the biggest opportunity for Europe to create a fully integrated supply chain for energy transition infrastructure.
The Barroso Lithium Project: The start of Europe's lithium supply chain
The Barroso Lithium Project seeks to address Europe's supply chain issues, and also signals the beginning of the end-to-end battery supply chain. Ideally situated close to power and road infrastructure and less than a two-hour drive from Porto city and several major industrial ports on the Atlantic seaboard, the development is the most significant and shovel-ready project on the continent. Because of this, once the lithium can be mined, it can be easily transported across Europe and to other Western countries.
At present, there is no domestic lithium raw material production in Europe for battery manufacturing, with heavy reliance for the critical metal being on supply from China. Currently, our generation faces the significant problem of how to ensure a sustainable and secure supply of critical minerals, with market analysis suggesting that there will very soon not be enough lithium available globally to meet the expected demand for lithium-ion batteries. With such local demand growth expected, Europe's domestic battery manufacturing capacity is also expected to grow to become the second-largest manufacturing region in the world, with over 30 battery plants or gigafactories operating or proposed to date.
The start of Europe's lithium supply chain has already begun in Portugal, with two Portuguese lithium chemical projects having been announced in late 2021. The Barroso Lithium Project's concentrate material would represent a natural feedstock for both of these proposed plants, benefiting from the close proximity to the likely site locations, which would have a positive impact on the carbon footprint associated with the lithium chemicals produced. Having both raw material and chemical production in the country would also maximise the overall economic benefits available to Portugal from its lithium natural resources. Ultimately, The Barroso Lithium Project will be an example of the application of innovation and technology in the mineral production industry and will be showcased in Europe as a 21st century project.
Savannah is working diligently to get this project into production. The company expects to receive the regulator's decision on its EIA in 2022, which will be integrated into the project's definitive feasibility study (DFS). Savannah is looking forward to being able to make a final investment decision in 2023, and potentially moving into the construction phase in 2024, with full production to be achieved at the project in 2025. There is a large amount of interest in both the project and the substance it will produce, both from partners in Europe and across the globe.
Investing in Portugal and the Barroso Region
Savannah has a special focus on local communities, with the company's success being critically connected to the support of the surrounding communities. Since the beginning of the company's involvement in the Barroso Lithium Project in 2017, Savannah has focused on engaging with and listening to its stakeholders. Savannah has been involved in supporting a number of important local initiatives, such as donations to local firefighters, sponsoring local sports teams and events, and financially supporting residents for repairs to homes in the local villages.
The company strategy is founded on good habits and proactive engagement with stakeholders to deliver value for neighbours and the local economy. This will be done through a tailored Benefit Sharing Plan which will formalise its commitments to the local community across areas such as education and training, infrastructure (energy and communications), support for local businesses and agriculture, health, and leisure activities. At the heart of this commitment will be a foundation that will receive €0.5m per annum from the project which can be put towards community-beneficial projects as selected by community representatives.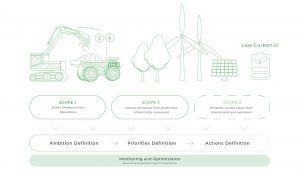 Alongside employment and economic benefits, the project will also generate significant tax and royalty revenues for the local authorities. It will additionally allow local authorities to catalyse further investment in the area by using the Barroso Lithium Project as a foundation to develop other related industries in the area. The project will create over 200 direct jobs, and between 500-600 indirect jobs, benefitting both local and regional communities.
Championing responsible operating
Savannah's responsibilities around the project are not just limited to social and economic aspects – Savannah considers the protection of the natural environment as an equal priority.
The Environmental Impact Assessment (EIA) that the company submitted to the Portuguese regulator, APA, in 2020 and which underwent public consultation in 2021, encapsulates its many commitments to minimising the possible impacts of the project. In total, 238 mitigation measures have been designed into the project to date across key environmental parameters.
Savannah will closely manage the project's environmental performance using innovative technology and intends to report key environmental performance indicators, such as water quality, noise levels, and air quality, in real-time via a smartphone app. A network of sensors will monitor the operations around the project and the information generated will help increase transparency and encourage stakeholder engagement.
Furthermore, Savannah has committed itself to moving towards net zero emissions for scopes one and two, over the life of the project, through measures including the use of renewable energy and a zero/low emission mining vehicle fleet.
A programme of progressive rehabilitation will be implemented over the life of the project, and we are evaluating the potential to use the site for pumped storage of renewables generated by wind and/or solar at the end of the project's life.
Barroso is the bedrock to Europe's lithium value chain
The Barroso Lithium Project is a major domestic source of lithium raw material for Europe's energy transition, and an ideal feedstock for the lithium chemical plants being proposed in Portugal and elsewhere in Europe. The project represents a significant opportunity for Portugal to be at the helm of solving Europe's issue of depleted lithium reserves and a heavy reliance on unstable jurisdictions.
The purpose of lithium raw material production and the lithium value chain is to utilise the unique properties of this metal to aid society's transition away from fossil fuels and the internal combustion engine, to cleaner forms of energy and transport. This will make a significant positive contribution towards combating climate change and can be done in a responsible way that brings benefits for numerous stakeholders. Savannah has committed to developing and operating the project in a responsible way and to sharing the economic and social benefits the project will create.
Please note, this article will also appear in the tenth edition of our quarterly publication