Paul Collins, Founder/Manager of DesignPro Renewables, discusses the changes in the renewable energy market in recent years and how his company can play a pitvotal role in the hydro energy sector moving forwards.
Back in 2014, the renewable energy market was relatively young, and considerable change has been witnessed between then and now. DesignPro has been operating since 2004, designing and building complex production solutions for some of the largest companies in the world in the medical, pharma, and automotive industries. Yet our Renewables division has still not cracked the market – but that is not from a lack of trying. With several million spent over the last seven years plus the development of the skills, abilities, and infrastructure to complete any challenge put in front of us.
The evolution of the company
We have had some significant successes on the journey – from being recognised as a 'Champion of EU Research' to receiving €2.7m in Horizon 2020 funding. Now, we have gained an abundance of knowledge and have successfully deployed hydrokinetic turbines both in France and Scotland – from which we have learned what works and what does not.
This brings us to the next stage of the company's evolution: taking those details and working to address the constraints of the renewable energy market and the environments in which they will be deployed. The evolution of our hydrokinetic turbine's product design is now termed 'Harness the positive+ renew the negative-'. To quote Thomas Edison: "I have not failed 1,000 times; I have successfully discovered 1,000 ways to not make a lightbulb".
Not that we are in position to make discoveries on a par with Edison, but we do know the things that have worked well and which can therefore be used again. These include:
Our PTO system, including an innovative Maximum Power Point Tracking (MPPT) system;
A mooring system that is simple and resembles that of a boat or pontoon, thus reducing the possibility of fish entanglement;
The deployment/installation of the device carried out in one day with no considerable civil engineering works;
Grid connected with a simple 'plug and play' three phase power configuration or as specified by the customer;
The rotational speed and aspect of the turbine blades is such that the blades do not travel faster than the water moving around them, thus reducing the risk of damage to marine life and channel flow regimes;
Design features that accelerate water flows into turbine blades designed to optimise lift, significantly improving the efficiency of energy transfer to the power generators and correspondingly improving the electrical output efficiency in low-speed water flows;
Environmental facts from the three year deployment in the Garonne river France;
Materials specifications knowledge – suitable to the environment and durable as currently proven; and
Our design, automation, and mechatronics team that get the job done plus the new supplier and contract support houses we created relationships with along the way.
By taking what we have learnt from the most recent testing feedback plus the sites we have reviewed, we are essentially flipping the current product on its head, moving from a vertical axis turbine system to a horizontal method. This will make additional sites available as reduced depth does not become a major factor for deployment, and it will also allow us to look at a power bridge method on canals or plant run offs.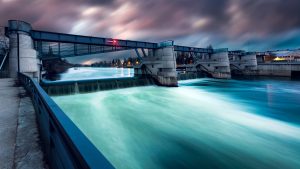 The design principle is to now work from these factors:
Use of recycled materials in manufacturing – the goal is for 50-60% to be used, especially for buoyancy;
Uni or bi-directional without the need for the device to change its heading and face the flow;
Simplified further for manufacture, thus reducing the cost to the end user;
Modular – allowing ease of expansion using the existing infrastructure layout;
Smart automation allowing the device to talk to who you want, when you want;
Our Hydro 'bubble' method;
A live training and support structure to allow the end user have confidence in their system; and
Digital twin and use of augmented reality systems (4.0 approach).
As previously mentioned, we already have the infrastructure and the passion to complete our solutions, but we are perhaps missing the marine business development and commercial experience in this area. There is a new focus on supporting hydro renewable devices and overcoming the hurdles in the way of getting them into the water via different pan-European projects, which is great to see. We believe there is a need for our devices as they offer the opportunity to utilise the more predictable hydro renewable energy source for the creation of power.
Filling the gap in the renewable energy market
Some 1.5 billion people around the world live day-to-day with 'broken' electricity grids and experience blackouts for hundreds and sometimes thousands of hours a year. For this population, reliance on distributed diesel and gasoline backup generators, or 'BUGS', is a common stopgap measure. Annual spending on fossil fuel for backup generators is roughly €50bn each year – at roughly twice the average hourly cost of grid electricity.
These generators are deployed across the globe on a large scale both on- and off-grid, at homes, businesses, and industrial sites. They support access to energy but come with significant costs as they are expensive to run, polluting, and harmful to the surrounding population. On top of these immediate problems caused to the local population, this global issue is actually increasing greenhouse gas emissions with sales of diesel gensets increasing year on year for the past 10 years. They are not secure sources of energy, leaving those users that rely on them vulnerable and, in many cases, such communities are located near estuaries or the coast and so have no opportunity for real sustainable progress while this is their only means of electricity.
There is a significant opportunity to reduce both cost and the negative health and environmental externalities by replacing diesel and gasoline generators. Indeed, many of these remote communities, businesses, and marine industries are near an excellent hydro resource that could provide clean, predictable energy.
We are thus seeking to deploy, test, and demonstrate a number of our full-scale hydrokinetic devices with the partnership and support of an established and successful hydroelectric utility operator. We currently have a foreshore licence application at a very mature stage that will provide a suitable site in the next 12 months, so the ideal situation would be to ensure a full team is in place.
Our clear focus moving forwards is to source a partner(s) with whom to work on this project, joining forces to discover further opportunities for deployment. There are definitely exciting times ahead, so we would be delighted to hear from any interested parties reading this article.
Please note, this article will also appear in the seventh edition of our quarterly publication.