Greenland has been long known for its rich mineral endowment but, in the quest to secure critical minerals, its reputation has attracted new attention.
Australian public-listed company Eclipse Metals Limited (ASX: EPM) is building exploration plans for a mineral project with vast multi-commodity potential.
Eclipse's project comprises the former Ivigtût (also referred to as Ivittuut) cryolite mine, as well as the nearby Grønnedal-Ika prospect in Southwestern Greenland. Ivigtût produced 3.8 million tons of high-grade cryolite for use in the aluminium industry over its 120-year mine life before operations ceased in 1987, but the region's potential to host other types of mineralisation had been overlooked until it came onto the radar of Eclipse.
Acquiring the project in January 2021, Eclipse started to build a case for the project's potential to host both heavy and light rare earth elements (REE), as well as base metals and industrial minerals.
Historic sampling at the Ivigtût mine
Sampling historic core from Ivigtût's existing pit, as well as Eclipse's own grab sampling programme undertaken in late 2021, has returned encouraging results, with high-grade REE and lithium outcomes. The project had never been previously explored for lithium.
Eclipse's sampling returned elevated lithium concentrates up to 430ppm Li2O, with samples taken from Ivigtût's cryolite-fluorite-siderite mine dump material and from Grønnedal-Ika, returning the same lithium value. These results further highlight the polymetallic character of the project, although additional work is needed to determine which mineral or minerals carry anomalous lithium identified in an aplite dyke at Grønnedal-Ika.
Understanding the value of cryolithionite
Eclipse Metals' Executive Chairman, Carl Popal, said: "Our grab sampling programme at Ivigtût has identified cryolithionite, a lithium-bearing fluoride mineral that was first identified at the historic Ivigtût mine in the early 1900s. While cryolithionite was known to exist at Ivigtût, previous operators had no interest in lithium and, therefore, did not assay for it. The recognition of highly anomalous lithium is an exciting step in our work and provides us with a greater understanding of the complex, multi-commodity mineralisation at Ivigtût."
Cryolithionite is a globally rare mineral, first described from Ivigtût. The cryolithionite mineralisation at Ivigtût is known to occur as crystals, up to 19cm long, in massive cryolite and sideritecryolite, cryolite veins, and fluorite-cryolite breccia. In addition to Ivigtût, the type locality for this fluoride mineral, cryolithionite, has also been reported from the Gasberg's topaz-cryolite mine in Russia and Zapot pegmatite near Hawthorne, Nevada1.
Popal said, while Eclipse's latest findings were encouraging, a more systematic sampling approach, alongside explorational drilling, would be required for Eclipse to better understand the lithium potential at Ivigtût.
In addition, the project has returned outstanding results for industrial mineral silica quartz, with 99.9% and 99.6% high-purity silica quartz delineated from Ivigtût's dumps and drill samples from the existing pit.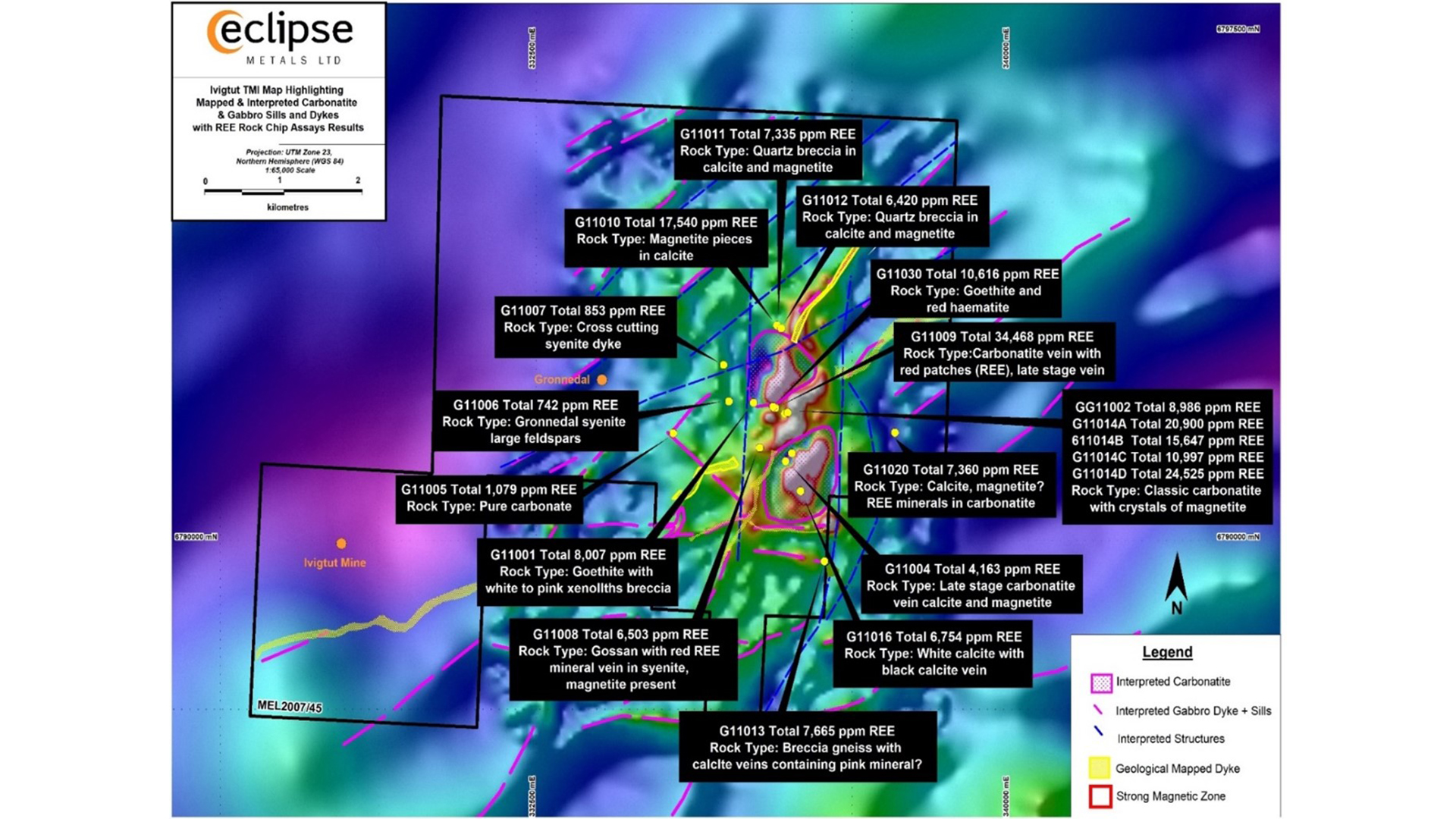 Further exploration
This gives Eclipse the opportunity to further explore the REE and critical mineral potential of the project, while also planning the development of a silica quartz operation.
Popal added: "Our analysis has confirmed high silica grade quartz from Ivigtût's mine dumps, with historical assays returning grades ranging from 99.02 to 99.98% silica.
"Analysis determined the quartz can be purified with a simple process that can substantially increase grade by removing impurities, which could increase its ability to be used for higher end products such as semi-conductors. This would further increase the deposit's potential value.
"In 2022, we plan to drill at Grønnedal-Ika, while also assessing the silica quartz mining potential via a feasibility study on the existing silica quartz resource at Ivigtût. We will submit a work programme to the Greenland Mineral Licence and Safety Authority (MLSA) for onsite work programmes starting in 2022 as we work to progress our exploration and uncover the project's full potential."
Enhancing understanding of REEs
To complement its exploration plans, Eclipse embarked on a collaborative research programme with world-renowned REE specialists Professor Adrian Finch at the University of St Andrews, UK, and Associate Professor Henrik Friis from the Natural History Museum at the University of Oslo, Norway.
The company anticipates the academic project will further its understanding of the genesis and controls on REE mineralisation in its Ivigtût mine, with implications for the nearby Grønnedal-Ika carbonatite complex.
Popal added: "The PhD research will have immediate impact in developing Ivittuut as a source for critical metals in the European green technology market, directly addressing these issues."
Meanwhile, the Disko-Nuussuaq project on Greenland's West Coast, operated by London-listed Bluejay Mining, has attracted the attention of some of the world's richest people, due to its potential to host critical minerals for use in products such as electric vehicles (EVs).
Exploration company KoBold, which uses Artificial Intelligence and Machine Learning to hunt for raw materials, counts billionaires Jeff Bezos and Bill Gates among its backers and acquired 51% of the  Disko-Nuussuaq project last year, targeting massive nickel, copper, cobalt, and platinum group metals.
References
1.  Pauly, H. (1986). Cryolithionite and Li in the cryolite deposit Ivigtût, South Greenland. The Royal Danish Academy of Sciences and Letters, Matematisk-fysiske Meddelelser, 42(1), 24 p.
Please note, this article will also appear in the tenth edition of our quarterly publication.

Go to this partner's profile page to learn more about them