ASX-listed multi-commodity explorer Eclipse Metals is setting to work to uncover the exceptional green potential of the rare earth minerals in the unique Ivittuut mine site in Greenland, which it acquired earlier this year.
Eclipse Metals acquired the industrial and rare earth mineral Ivittuut Project in January and recently received Greenland Government approval to commence a fieldwork program as the first step in bringing new life to the historic project.
Ivittuut hosted the world's largest and only commercial cryolite mine before closing in 1987 after 120 years of operation. Historical exploration included 19,000m of diamond core drill holes, the core from which is now stored in a government facility and available for re-logging and sampling. Data from the Geological Survey of Denmark and Greenland (GEUS) shows that the mine produced 3.8 million tonnes of cryolite.
Cryolite is a specialty mineral used as a fluxing agent in aluminium production, significantly reducing energy consumption through the smelting process. Ivittuut remains the only commercial, naturally occurring deposit of cryolite globally and has a long history of mining. However, the deposit also contains a potential treasure trove of accessory minerals.
The presence of various valuable accessory minerals in the deposit, including zinc, fluorite, rare earth elements, and high silica-grade quartz, represents a wealth of opportunities for Eclipse Metals.
Historical mining operations did not recognise the potential for rare earth element (REE) mineralisation.
The quartz deposit below lvittuut represents a potentially lucrative commercial opportunity. The market for silica products is currently growing at around 7% per annum, and the appetite for the product in the nearby European market exceeds 30 million tonnes per annum, with the manufacture of glass products using 15 million tonnes.
Eclipse Metals executive chairman Carl Popal said Ivituut had multi-faceted commercial potential and added: "Ivittuut is unique in so many ways; as the world's only cryolite mine with huge potential for multi-commodity mineralisation next to a historical port, but also as a source of highly sought-after heavy rare earth minerals. This is a global leap forward for the company to expand with unique opportunities in the green energy metals and minerals sector.
"Having substantial high silica quartz still within the pit area positions the company to be a near term supplier to the electronic, solar, optical, and silicon metal industry. This deposit has the potential to produce high purity quartz (HPQ), which is a highly sought-after industrial mineral.
"Furthermore, the large tenement area covers one of Greenland's best-located carbonatite deposits, which is close to Gronnedal port. This deposit could provide an ideal product for neutralising acid mine and process water produced by other miners in the Greenlandic region. This fits well with our mission to excel in the commercialisation of metals and minerals demanded in the production of green energy and required by the industry in the reduction of pollutants."
Eclipse inherited a massive archive of Ivittuut exploration and mining data, including 19,000m of drill core. A preliminary assessment of the data shows the lvittuut deposit is associated with a distinct leucogranitic intrusion in contact with basement granites, which hosts a wealth of high-value, specialty minerals.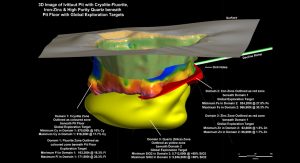 Popal added that: "The thickness of the mineralised zones highlights the potential for future mining beneath the pit walls and floor. The depth extensions of mineralisation have exceeded our expectations with potential upside for further mineralisation within the zinc and quartz zones.
"We are confident that with more assaying of the drill core, the zinc mineral volume and grades could be increased. During exploration by the previous owners, base metal mineralisation was never a target commodity; hence little work was completed."
The deposit shows a distinct layering, with the shallow cryolite-rich zone now largely mined out underlain by a fluorite-cryolite unit that extends from within the pit walls and immediately below the current pit floor. Deeper units in the intrusion include sphalerite and siderite (Fe)-rich units and high silica quartz. A third cryolite­rich unit delineated by deep drilling lies ~700m below the surface.
Grab sample assays have recorded total rare earth grades up to 34,468 parts per million at the Gronnedal-Ika carbonatite deposit. The project also holds the potential for carbonate rock as a commercial by-product.
"The lvittuut project continues to show the hallmarks of containing world-class mineral deposits. Many samples were collected from the carbonatite in Gronnedal, but the highly altered surrounding rocks also offer excellent mineralisation potential. The results show persistent content of REE.
"Gronnedal-lka is known to have the only known carbonatite deposit proximal to existing port facilities within Greenland. The carbonate body of 2km by 1km could provide an ideal lime and limestone source product for neutralising acid mine and process wastewater produced by other miners in the Greenlandic region. Overall, the results confirm there is excellent REE potential at the surface in Gronnedal-Ika," Popal said
The global market value in silica products is set to grow to more than $13.5bn per annum by 2026.
"To date, evaluation of historical data has unveiled massive economic potential for the Ivittuut project, having been the world's only known commercial cryolite mine. It also has the potential for multi-commodity deposits of cryolite, fluorite, zinc, iron, high-grade quartz, and highly sought-after rare earth element minerals," Popal said.
Due to the growing demand for high silica grade quartz in the European market, the company is expanding its interest in silica.
"Logistically, the deposits are located near an existing port, offering significant commercial benefits in the delivery of its products to market," Popal said.
Interestingly, silica products fetch a range of prices depending on their relative purities, especially their iron content. Lower quality powders used in the manufacture of glass, optic fibre and lighting generally trade at between US$1,000 and US$1,500 per tonne, whilst high-purity 'Grade 3' silica products command prices of up to a whopping US$19,000 per tonne.
Further, the potential for the REE europium was also recognised within the carbonatite intrusive bodies. Europium is in extremely short supply worldwide, being used in the nuclear reactor control rods and superconducting alloys.
The company intends to undertake systematic geophysical and geochemical surveys, which will be conducted on a close-spaced grid to delineate targets for future drilling.
The Ivittuut mining district sits approximately 375km south of Greenland's capital, Nuuk, and is famous for its endowment of specialty metals increasingly appearing on developed countries' lists of critical minerals.
Eclipse Metals has secured an exploration licence for Ivittuut from Greenland's Minister for Mineral Resources, Naaja Nathanielsen, valid through to December 2024.
Ms Nathanielsen said mineral resources were "very important in order to diversify the Greenlandic economy to the benefit of all.
"Mining remains an industry that the new government intends to develop and prioritise in the future – both for international companies as well as local entrepreneurs," Nathanielsen added.
Eclipse Metals says Greenland's government is looking to advance mining projects in the country other than uranium ventures.
Popal said that: "Ivittuut is an industrial mineral and REE project with no uranium mineralisation. We are looking forward to working with the Ministry of Mines and Greenland's Mineral Licence and Safety Authority to progress the development of the lvittuut project.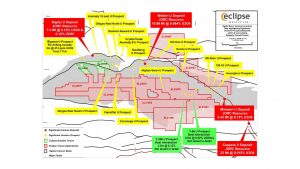 "lvittuut has more than 120 years of mining history, and the project has great commercial prospects. We look forward to exploring this potential and working with the new government to develop a new mine or mines in South-West Greenland."
Production of rare Earth minerals in Australia
As well as Ivittuut, Eclipse Metals has an existing Australian portfolio of exploration and development opportunities in Queensland, where its Mary Valley project hosts historic mines including Amamoor No 1. This mine historically produced over 12,000 tonnes of manganese at 51% Mn and more recent work by Eclipse metals has shown potential for a new era of mining. The company hopes to commence bulk sampling at Amamoor by the end of 2021, following the company's delineation of previously unknown shallow manganese mineralisation last year.
"We are intent on developing the company into a near term producer," Popal said.
The Mary Valley project tenements are 17km South-West from Gympie, a major regional centre and mining town with an operating railway line, 138km North of Brisbane.
The largest historical mining operations were at the Amamoor Manganese Mine and satellite deposits in close proximity. Mining occurred in four phases: 1920 to 1926; 1937-1938; 1950 to 1954; and 1958-1959 with total cumulative production from the local district reported to be in the region of 23,000 tonnes at grades ranging from 52% to 74% MnO.
Historical excavations were made following the interpreted trend of mineralisation, based on observations and interpretations made by machinery operators, not guided by geologists. The pits were excavated using a bulldozer to scrape progressively deeper benches into the weathered rocks with spoil from mining being tipped downhill, covering much of the geology and other deposits.
Manganese ore has been mined intermittently from the Mary Valley deposits since 1908, with the bulk of the output occurring in the most recent period (1957-1960, 1965-1966).  Most ore produced was of metallurgical grade which was sent to Broken Hill Proprietary Co. Ltd at Newcastle for steel manufacture.
Silver and copper at Rock Hill
Another opportunity for Eclipse Metals lies at its Rock Hill prospect, part of its extensive Ngalia Basin project in the Northern Territory, originally acquired for its uranium potential.
The Rock Hill discovery sits within Eclipse's Yuendi exploration licence application, ~300km North-East of Alice Springs in the Northern Territory. The tenement application covers over 1,000kmpp of prospective stratigraphy in the enigmatic Arunta Block, which has only seen limited exploration.
Here, Eclipse Metals is homing in on a potential high-grade, near-surface copper/silver deposit, with analysis of historical exploration data unearthing extensive mineralised drill intersections. Previous work over the prospect has revealed the presence of a melting pot of metals, including both copper and zinc; however, the star of the show looks to be silver.
Historical drilling at Rock Hill has returned intersections grading up to 2,288 grams per tonne of silver or more than 70 ounces per tonne.
Better intersections from the prospect include 30.5 m at 455 g/t silver, which includes 3m at 2,288 g/t silver and a further 3m at 1,118 g/t silver from 33.5m, whilst a nearby drill hole returned 3m at 1,420 g/t silver from only 6.1m down-hole.
The prospect also hosts significant levels of copper, with deeper intersections including 1.5m at 4.9% copper and 35 g/t silver from 71.3m and 1.5m at 3.2% copper and 12 g/t silver from 54.9m.
Work by Eclipse Metals has identified a mineralised trend at Rock Hill, which is ~2.5km wide and more than 10km long, hosting an ensemble of prospects that potentially represent a pipeline of exploration targets.
The project sits just 20km South-East of Todd River Resources' 2.6 million tonne Mt Hardy copper-zinc deposit grading at 6.7% zinc, 0.9% copper, and 35 g/t silver, which suggests the region is highly prospective for discovery of further base and precious metal deposits.
Silver has seen a dramatic increase in price since the onset of COVID-19, increasing from US$15 per ounce in April 2020 to US$25 an ounce today. However, this precious metal has been much higher in the past 10 years, trading as high as $45 per ounce in 2011 — a level it may regain in the near future as its allure expands as both a technology metal and a store of wealth. Any further upside to silver prices can only add to the potential value of Eclipse's Rock Hill discovery.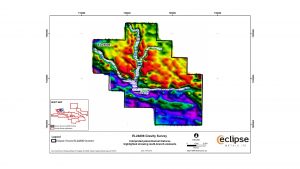 A desktop review of the Rock Hill project highlights the scant amount of exploration undertaken across this historic copper field in the past 50 years. The Northern Territory (NT) Department of Mines' documents show a small tonnage of high-grade copper ore extracted from the field in the 1960s, whilst the NT Geological Survey (NTGS) conducted the only significant exploration in the 1970s.
The NTGS work programme consisted of mapping, sampling and eight diamond drill holes around 500m of strike along the main Rock Hill prospect returning the intersections reported above. The tenure has yet to be tested utilising modern exploration techniques representing a blank canvas for future base and precious metal discoveries.
Eclipse Metals is seeking Native Title and government approvals to commence exploration at Rock Hill whilst planning an airborne electromagnetic survey to identify priority targets for future drill testing.
With the company planning its next steps at Yuendi/Rock Hill and first-pass drilling already divulging a wealth of mineralisation, Eclipse looks to have a prime position in the Arunta Block.
Eclipse now has the challenge of delineating an extensive ore system at Rock Hill. However, with initial studies indicating the silver-copper trend may extend over more than 10km of strike, the company looks to have plenty of runway to make significant discovery in this underexplored NT terrane.
Shallow U-V Sr Mineralisation delineated in the Ngalia Basin Project
Elsewhere across Ngalia Basin tenements, Eclipse has delineated shallow uranium, vanadium-strontium mineralisation from RAB drilling results at Mt Wedge Station and Rabbit Bore areas in its Ngalia East tenement and plans to complete initial reconnaissance drilling at two tenements; Cusack's Bore and Ngalia North, to follow up uranium-vanadium-bearing paleochannels indicated in a geophysical survey. Cusack's Bore is about 10km from the Bigrlyi uranium deposit managed by Energy Metals.
"Eclipse holds approximately 9,020sqkm of quality uranium exploration interests in the Northern Territory proximal to known uranium deposits. Results from historical exploration highlight the diverse nature of the Eclipse Metals mineral exploration assets in tune with the growing demand for Green Energy," Popal said.
On its Ngalia East tenement, Eclipse has delineated seven untested target zones based on interpreted radiometric data. These targets present opportunities for substantial exploration upside for deeper mineralisation. The previous drilling programme only tested near-surface mineralisation with holes to an average depth of only 8.3m and the maximum depth of 16m.
Eclipse has progressed negotiations with the Central Land Council to assist with preparing an exploration agreement with the Traditional Owners. Once an agreement is reached, the company will commence exploration.
Eclipse has already assessed the reprocessed and re-interpreted available geophysical data, which targets particular radiometric anomalies for further RAB drilling in the mineralised zones and infill drilling of the Central and Western section of the exploration tenement area.
Uranium prices have bounced off recent lows and could be headed higher on the back of surging worldwide demand for green energy. New mine supply is on the radar of international power companies, and Australia continues to be seen among the top jurisdictions for long-term, reliable production demanded by utilities.
"Eclipse is well-positioned to take advantage of the evolving uranium sector with its diverse Australian portfolio of mineral interests and, in particular, the company's extensive uranium portfolio in the NT, including the Devil's Elbow and Cusack Bore," Popal said.
Devil's Elbow prospect
The Devil's Elbow prospect is situated near a major shear zone on the northern side of McArthur Basin, encroaching on the Pine Creek Oregon and on the Ranger geological fault line between the Alligator River and Goomedeer River.
Devil's Elbow was discovered by Uranerz Australia in the late 1970s and early 80s and further explored by uranium giant Cameco between 2002 and 2008. Samples from shallow trenching yielded high-grade uranium of up to 5.8%, plus precious metal assays, including up to 31.8 g/t gold and 28.02 g/t palladium.
"Both Uranerz and Cameco could see there was something there [at Devil's Elbow] and delineated the target zone, but they only had limited access to the ground for drilling. We were fortunate to pick it up from a local prospector who was very close to the Traditional Owners," Popal said.
The Eclipse tenements straddle the Ranger Fault and cover areas to the South of the fault previously not accessible for exploration.
Since 2013, Eclipse Metals has conducted extensive and detailed historical data review over the Devil's Elbow area and its surrounding tenements and delineated several new drill targets South of the Ranger Fault, which warrant significant follow-up exploration activity.
These anomalous structural zones are displayed in red, yellow and green patches on the radiometrics map, (see Fig. 5, below).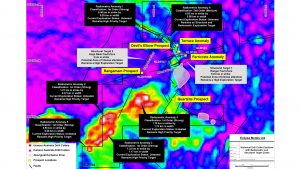 Those anomalies were never explored because Cameco was not able to access that area.
Cameco and Rio Tinto both believe that somewhere within that area, there is potential for a monster of a project – such as another Ranger or Nabarlek. Cameco delineated a conceptual target but it was never drill tested.
Now that Eclipse Metals has secured a lifetime agreement to explore and mine at the Devil's Elbow prospect, the company aims to execute a work programme in 2021/2022, including detailed exploration, not just for uranium, but also for gold and palladium across the tenement area.
"We plan to pick up on Cameco's geophysical results and expand on the anomalies towards the South. Subsequent to that, there are some clear target areas which we can go out and drill. The important thing for us is to develop existing geophysical and geological mapping to delineate further targets," Popal said.
Eclipse Metals received additional geophysical data on the Devil's Elbow prospect that was not available until released by Cameco in February 2020. This extensive data-set reveals several untested targets that Eclipse will incorporate with its existing data and mapping over this year.
A geologist's heaven in the Northern Territory
In the West Arnhem Land region of the NT, East of Darwin, Eclipse is focused on several uranium, gold, and palladium prospective tenements. These prospects are located within the Alligator Rivers Uranium Province (ARUP), an area that Popal describes as 'a geologist's heaven'.
An increased understanding of the role of nuclear energy in a low carbon world over recent years has seen more investors looking for uranium exploration opportunities. After listing with these projects in 2011, Eclipse has made substantial progress since 2018 in unlocking these for exploration.
Popal concluded by saying that: "West Arnhem is a well sought-after area in the exploration mining world. 96% of past uranium production and 95% of known uranium resources in the NT are located in the ARUP.
"Most of our neighbours are big players such as Cameco and Rio Tinto. They and others have delineated some big uranium deposits like Ranger, the biggest uranium mine in the Southern Hemisphere and Nabarlek – a world-class, high-grade uranium and copper mine. Having said that, it is still a very pristine area to explore."
Please note, this article will also appear in the seventh edition of our quarterly publication.

Go to this partner's profile page to learn more about them