Kuniko Limited rocketed on to the ASX in August 2021 with immediate success, driving a zero carbon mandate and development of a strong portfolio of Norwegian-based battery metals projects.
Located in Norway, Kuniko Limited (ASX: KNI) is targeting battery metals for electromobility: copper, nickel and cobalt. With a mandate to maintain a net zero carbon footprint throughout exploration, development and production, Kuniko's projects aim to be at the forefront of sustainable mining.
A key challenge with the current battery metals supply chain is the length of that chain. On the path to a lower carbon society, where batteries and electromobility are a critical enabler, the carbon footprints on that path stretch right around the world. However, there is progress within Europe and Scandinavia to shorten that supply chain with the installation of production capacity of both battery manufacturing and intermediate processing of battery minerals. As these facilities come into fruition, Kuniko is set to launch the development of its battery metals projects in Norway, strategically positioning itself to further reduce the supply chain and overall carbon footprint with the development of local sources of raw materials.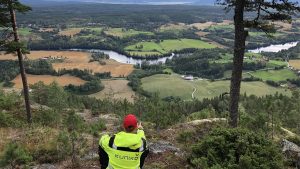 The outlook for battery manufacturing
Across this decade, battery manufacturing capacity across Europe is forecast to increase by more than 500 GWh to support the EV revolution. This translates into significant increases in the annual requirements for delivery to Europe of battery metals, including copper, nickel, and cobalt. Underpinning the drive toward increased battery capacity are political and climate objectives where electromobility plays a critical role in the shift towards a lower emission society.
To successfully meet these objectives requires more metals and the on-streaming of exploration and mining projects; time is of the essence! As Kuniko launches into the development of its projects, it does so with a zero carbon mandate in its sights. A spin-out of Vulcan Energy Resources, with their zero carbon lithium project in Germany's upper Rhine, the Kuniko mandate is well aligned to follow Vulcan's success. Kuniko further credits its strong Environmental, Social, and Governance (ESG) focus to its responsibility as a custodian of the natural resources they are entrusted with, and how those resources are developed, which according to Kuniko, must align with the ultimate goals we are all striving to achieve as a society.
The increased metal requirements for Europe amounts to approximately ten million tonnes of CO2 emissions per annum. In contrast, in the next five years, EU regulations are slated to introduce carbon intensity performance class labels for lithium-ion batteries, where from 2027, batteries produced must comply with established carbon footprint thresholds.
The development of the EU regulatory framework underpins the immediate need to develop the supply chain to bring to market projects in the European area to provide the necessary raw materials to the European battery industry and do so in harmony with UN goals for sustainable development.
The Kuniko solution
With the shift towards lower CO2 emissions across industries, there remains an unresolved pain point: the lack of ethically sourced minerals to support the green shift and the growing mineral demands of the battery industry. This is considered a critical challenge, also pushed by EU regulators in the resources supply chain, introducing regulations requiring manufacturers to demonstrate they are sourcing raw materials responsibly. Here, Kuniko intends to make a difference by developing its projects in Scandinavia, where higher ethical standards of production of battery minerals are both possible and achievable.
Further, strong governance credentials are becoming increasingly important, with EU requirements related to carbon footprint and responsible sourcing of raw materials introducing third-party verification processes. As a result, this will generate a digital passport tracking all the components to the battery for each battery produced.
With this background and context, Kuniko's strategy has been developed, summed up by the company as 'right place, right time, right projects, right approach, right attitude and right people.' Kuniko plans to progress the development of its battery metal projects in Scandinavia for the growing battery industry in the region, with a strong focus on developing its ESG credentials. With activities based in Scandinavia, a robust regulatory framework exists, and there is active support for achieving lower emission objectives. Future operations will benefit from accessing clean, renewable energy, with approximately 95% of Norway's electricity supply attributed to hydropower. These factors ensure minerals developed by Kuniko are ethically sourced, and the company can commit to targeting a net zero carbon footprint in its activities.
Scandinavia has a long and proud history of mining and production of raw materials and refined products, which once again is coming to the fore. This is partly due to recognition across social and political levels of the need to diversify into other industries and reduce the reliance on the oil and gas industry, but also due to the need to secure more minerals required to achieve sustainability goals and climate objectives.
Here, the exploration and mining sector provides an opportunity. There is an increasing focus from both the government and private sectors on the responsible development of Norway's rich inventory of natural resources. Further, the battery manufacturing capacity coming online in the region stresses the requirement for high standards of ethically-sourced materials and the need for a low to zero carbon footprint, being especially favourable to sourcing raw materials from the Nordics due to its production being based on renewable energy sources.
Kuniko's strategy is the right approach at the right time, where Norway is a natural fit to the strategy, and Kuniko is a catalyst to push the green agenda in the Scandinavian exploration and mining sector.
When it comes to electromobility, Norway is a pioneer with the highest adoption of electric vehicles per capita across the globe. It also has a sizeable maritime fleet and plays a leading role in the decarbonisation of the maritime industry. As a result, Norway has seen strong growth in both zero emission initiatives and the development of its battery industry, with mega-scale battery facilities now being built. With this, Norway has become the global testbed for green solutions, and Kuniko is well-positioned to play a meaningful role.
Scandinavia's track record for electrification in mining processes also favours Kuniko's zero carbon mandate. Utilising electrified mining equipment offers a step change towards sustainable best practices with benefits to employees, productivity, lower production costs and reduced environmental impacts. Here, large mining OEMs are at the forefront of providing electrified mining solutions. As Kuniko develops its projects, they will seek to engage with partners that can bring to the table innovative solutions like this to support achieving both its zero carbon goal as well as economic, viable and sustainable operations.
Kuniko's battery metals projects in Norway
Kuniko's current projects are in Norway, with approximately 790km2 of exploration licences for battery metals, clustered around four project regions. Its brownfield project portfolio includes copper, nickel and cobalt, while they also recently added a poorly explored pegmatite field prospective for valuable technology metals. Norway hosts cobalt and nickel refining facilities that would be well suited to accept Kuniko's locally sourced raw materials.
Immediately, the fundamentals for cobalt recognise increasing demand from battery applications; a supply imbalance forecast across the next decade while also acknowledging most of the cobalt supply currently comes from the Democratic Republic of the Congo. With the exponential growth in EVs, combined with both ESG concerns and the unfolding of EU regulations, these are compelling arguments for the exploration and development of Kuniko's cobalt projects in Norway, aiming to deliver ethically sourced material.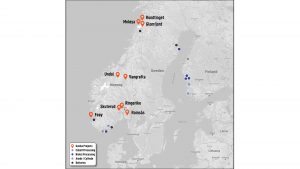 Kuniko has the potential to make a difference with cobalt. It has an excellent prospect being around the historic Skuterud mine, which was the world's largest cobalt mine in its day, producing around one million tonnes of cobalt. It was also Norway's largest company at that point, and interestingly, one of the main cobalt minerals, skutterudite, is named after this area where it was discovered. Kuniko believes it is well placed to find a new mine by looking in the same area as the old mine. It may not seem as innovative as the overall Kuniko approach, but it makes a lot of sense!
With nickel, the outlook is also favourable towards new projects, with an undersupplied market forecast going forward combined with the increasing application of nickel for the battery sector. Due to the CO2 intensity of nickel production, with the progression of its projects, Kuniko will aim to align with partners and innovators to drive toward a target net zero carbon footprint, which will be significantly assisted by access to Norway's hydropower.
Kuniko has two nickel projects in Norway, being Feøy and Romsås. Initially, Kuniko will focus on evaluating the Feøy project, which is a combined nickel/copper deposit and has some historical production. Historically mined grades in this area make it a promising prospect. Like others in the Kuniko portfolio, both projects have virtually no modern exploration, despite having historical production, a fact Kuniko will be working to leverage with its exploration efforts.
Electromobility is again a fundamental driver of demand for copper, and copper plays a vital role in the EV revolution. This, combined with the imminent need for ethically sourced, sustainable supplies with a low carbon footprint, frames the proposition for Kuniko to develop its projects in Norway.
Kuniko has three main copper projects – Vangrøfta, Undal and Nyberget. All have had some amounts of historical production, though again, no modern exploration. All projects present respectable grades, and in some cases, grade indications that are very attractive! Vangrøfta has been Kuniko's primary target from start-up due to having some historical mining and being near one of Norway's most prolific copper and nickel provinces, the Røros area.
Most recently, Kuniko has added to its exploration suite with the Ringerike project, a 360km2 area including the historic Ertelia mine. The sites are prospective for nickel, copper, cobalt and platinum group elements, and notably, work of previous explorers has produced some respectable nickel and copper grades here.
Rounding out Kuniko's portfolio of projects is a strategic prospect in the north of Norway, being the Nord-Helgeland project. This is a largely unexplored pegmatite field, originally identified by Norway's own geological survey team (NGU) and known to contain LCT pegmatites. However, there has been relatively no commercial exploration in the area, which could be of interest for Kuniko as a strategic expansion into valuable technology metals.
Our exploration activities
Since debuting on the ASX in late August 2021, Kuniko wasted no time and immediately commenced exploration activities. This included a significant airborne geophysics programme to cover the Skuterud, Vangrøfta and Undal project areas. The aerial survey work was completed at the end of September 2021, with evaluation and reporting of results expected during November.
At the Skuterud Cobalt Project, Kuniko completed a geochemical sampling programme where the main host horizon, known as the 'Fahlband', was intensively sampled to deliver large amounts of new data to test and refine existing geological models and provide detailed tie-in data to calibrate the newly acquired geophysics. In addition, the Northern and Southern extremities of the area had reconnaissance sampling done to generate data for detailed sampling planning in Kuniko's exploration programme for 2022.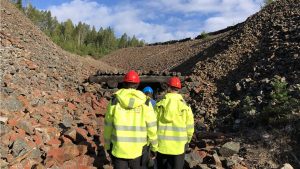 A similar geochemical sampling programme was also completed at the Vangrøfta Copper Project, where the exploration team completed extensive soil and rock sampling as well as geological mapping. Kuniko now has an improved understanding of the mineralisation style in the area and how it is located, both spatially and concerning its host geology.
Kuniko will soon obtain results from its initial exploration programmes and will be readying its plans for further development next year. The geochemical rock and soil sampling data will be augmented with that of previous explorers, enabling an unprecedented evaluation of geochemical anomalies in the project areas, which along with new geophysical data, will define the company's resource targets.
Strategic growth target
In addition to an exciting suite of exploration projects, Kuniko is well capitalised and enjoys a desirable level of support from shareholders. This puts Kuniko in an enviable position concerning further growth and offers the potential for Kuniko to consider opportunities that may fit its highly credible ESG approach.
Kuniko is casting a wide net on its potential growth options, with the spectrum of opportunities including additional exploration, near production mining assets, through to producing refineries. The Kuniko mandate is targeting growth aligned to its strategic imperatives of a robust approach to ESG, low carbon footprint and aligned to battery metals within the broader Scandinavian region. It will be exciting to follow the development of Kuniko and its progress toward delivering zero carbon battery metals to the European battery industry.
Please note, this article will also appear in the eighth edition of our quarterly publication.